Chieftains end skid at classic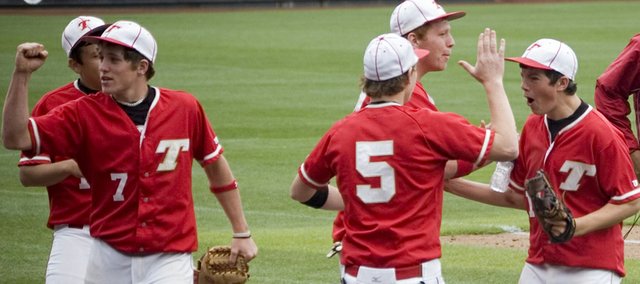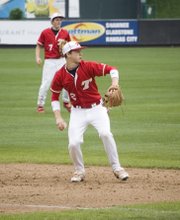 Kansas City, Kan. — When Tonganoxie High lost to Spring Hill by seven runs on Friday in the first round of the Butch Foster Memorial Baseball Classic, it looked like a once promising season was on the brink of a tailspin.
Disaster averted.
Instead of hanging their heads or dwelling on the negative, the Chieftains responded with two wins at CommunityAmerica Ballpark this past weekend.
Immediately following an 8-1, opening-round loss Friday afternoon, Tonganoxie blasted Bonner Springs, 11-1, and kept that momentum rolling with a 13-6 victory against Basehor-Linwood on Saturday in the classic's fifth-place game.
The two victories ended a three-game slide for THS and coach Phil Loomis said the players, who appear back to feeling comfortable, hope to be starting a new win streak with less than two weeks remaining in the regular season.
"They're learning that you can't just show up," the coach said, referring to a lack of mental readiness in the team's three losses.
Loomis said THS showed fight in its two wins because the Chieftains avoided a nasty habit: playing down to their competition.
"We made Spring Hill a much better team because we didn't play very well," Loomis said of the team's only loss at the tournament. "Hopefully we've quit doing that."
After Tonganoxie mustered just four hits against Spring Hill, senior Jace Waters said Loomis got on the team about its bats.
"The Spring Hill game, it was really weird because we didn't hit the ball at all," Waters said. "We turn around and play Bonner and have (nine) hits in the first two innings."
Waters was one of four Chieftains to have multiple hits as the team totaled 14 against Bonner Springs. He was joined in that category by Rob Schlicht, Dylan Puhr and Dylan Caywood.
"We definitely wanted some revenge because we played so horrible that game before," Waters said.
The hits kept coming for Tonganoxie on Saturday, despite the absence of starter Brandon Yoder, who was out of town for his sister's wedding. THS got a huge boost from Caywood, who had been batting at the bottom of the team's lineup. In the Chieftains' two consolation games, he went 6-for-7 with two RBI and scored four runs.
Caywood credited THS assistant coach Mitch Loomis for tweaking his swing. Just a slight change — putting more weight on his front foot — made all the difference and led to a great weekend. Caywood called it a huge confidence booster for him and his teammates, joking that his performance would make them think: "If Caywood can hit, I can hit."
Now that he is driving the ball more and not popping it up as much, Caywood thinks he can play a bigger role for the THS offense.
"If I can get on base, my teammates will bring me in," he said.
With Yoder missing Saturday's game, Caywood batted fifth in the lineup instead of ninth. Even though his offensive burst at the classic impressed head coach Phil Loomis, he said he might keep Caywood in the ninth slot.
"I like a double leadoff situation with (Ethan) Lorance," he said, referring to the THS leadoff man who would bat after Caywood.
Ideally, the coach would like to have Caywood's speed — he stole four bases in Tonganoxie's two victories — on the base paths with the top of the order hitting.
But Loomis admitted: "If he hits the ball like this, we're going to have to do something permanent."