Chieftains have busy final week ahead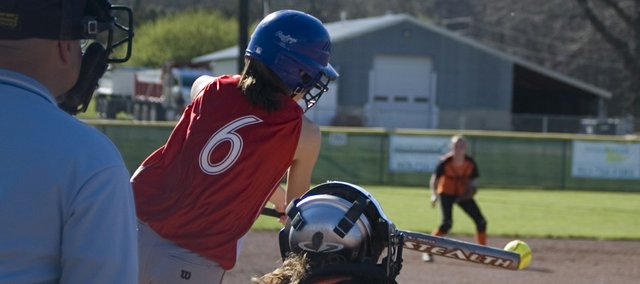 Failing to score with the bases loaded twice on Monday against Basehor-Linwood doomed the Tonganoxie High softball team in a 12-7 home loss.
The Chieftains scored big in the second inning with five runs and led 6-2 entering the fourth but the Bobcats scored five in that frame to take the lead.
Tonganoxie's offense slowed down when BLHS switched pitchers mid-game.
THS senior Lauren Himpel reached base in all five of her plate appearances on Monday. She went 3-for-4, drove in two runs, stole three bases and scored twice, but was stranded on third base on two occasions.
Kaitlyn Wolken was 2-for-4 with a triple and three RBI for Tonganoxie. After a hot start, the BLHS defense started playing her deep in the outfield and Wolken had two long fly outs that might have been home runs on an average-sized softball field.
Makayla Leslie was two for four and Tiffany Jacobs had a pair of singles for the Chieftains.
The setback put Tonganoxie's record at 3-7 this season entering a Tuesday doubleheader at Lansing. From Tuesday to May 12, THS will play eight games, nearly as many as they played from April 9 to May 4.
"That's almost half of our season," THS coach Diane Titterington said.
With a serious stretch of the schedule crammed into the next week, the coach said pitching was a little bit of a concern going forward, as was the team's mental edge with two of their toughest opponents — Lansing and Perry-Lecompton — being a part of that slate.
"You just don't have much of a chance to prepare for both of them because how you play them is a little bit different for both of them," the coach said.
Tonganoxie will play host to Perry-Lecompton on Friday. That doubleheader will be the team's seventh game in five days if there are no rainouts, which led to this busy week in the first place.
Titterington said she was "a little concerned just about the weariness, mentally and physically, come Friday," especially for pitchers and catchers.
"It'll be a challenge," she said. "We've been coming around in some areas and just when you think we're starting to fit it together, we slip and have the mental collapses."
Tonganoxie's remaining schedule
May 5 — at Lansing (DH), 4:30 p.m.
May 7 — Bishop Ward (DH), 4:30 p.m. (senior night)
May 8 — Perry-Lecompton (DH) 4:30 p.m.
May 12 — at Piper (DH), 4:30 p.m.
May 18-19 — Regionals at Eudora, TBA