Grizzle sweeps throwing events for
THS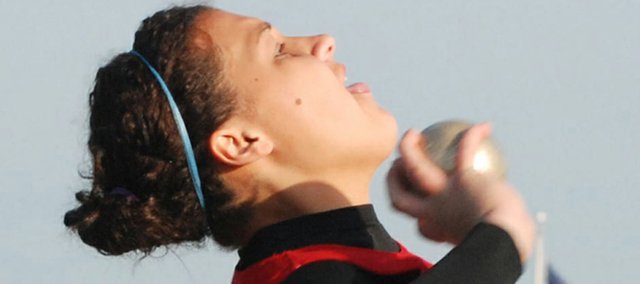 Roni Grizzle's senior year keeps getting better and better.
A day after being named the Sunflower Broadband Channel 6 Hy-Vee High School Scholar Athlete of the Month for April, the Tonganoxie High thrower celebrated by winning the shot put, discus and javelin events Friday at the Blazer Invitational in Gardner.
Grizzle swept the girls throwing events and led the THS track team to a fourth-place finish by tossing the shot put 43 feet, 9 inches (a new personal and THS record), hurling the discus 117 feet, 10.5 inches and throwing the javelin 140 feet.
Of course, she wasn't the only thrower to score for the Chieftain girls. Fellow senior Chrissie Jeannin was second in the javelin, and Grizzle's younger sister, sophomore Dominique, was second in the shot put and fifth in the discus.
Tonganoxie scored high with a second-place finish in the girls' 400-meter dash from Cristina Rubio, who had a season-best time of 1:03.
Two THS relay teams — the 4x100 and 4x400 — also had their best times of the season. Andie Jeannin, Megan Puhr, Rubio and Sagan Scates comprise both relay teams. They ran the 400-meter relay in 54.5 seconds and the 1600-meter relay in 4:22.3.
Girls track coach Chris Weller was happy with the performances and the team's fourth-place finish.
"I think that the girls did as well as could be expected," he said of the Gardner-Edgerton meet.
Lindsay breaks record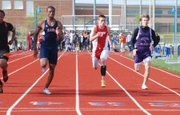 Grizzle wasn't the only Chieftain to break a THS record on Friday. Junior DJ Lindsay broke a 15-year-old mark in the 200-meter dash with a time of 22.2 seconds, beating the previous record by four-tenths of a second, in his prelim. He ran the race in 22.6 in the finals for third place.
Although Lindsay and Austin Smith, who finished second in the high jump, were the only two THS boys to medal and the team placed eighth, coach Phil Williams said the Chieftains actually fared quite well at Gardner. THS has won three meets so far this year but none were as loaded as Friday's invitational, where most of the schools were Class 5A or 6A and even 4A schools such as Paola and Louisburg are teeming with talent.
"I would have thought we would score more points than we did given our performances, but it was the toughest meet by far we have encountered," Williams said. "Our team depth doesn't show up much in a meet like this, because the kids that usually pick up fourth, fifth and sixth places didn't score at all."
Each of Tonganoxie's relay teams ran their best times of the year. Williams said when the 4x400 team — Lindsay, David Powell, Bret Koch and Jeremy Carlisle —finished in 3:29.2, it was the third best time in 4A. But that was only good enough for fourth place at Gardner.
The same four runners are on the 4x100 team and they have excelled all season long but finished fifth on Friday.
"The scores don't reflect the quality of our performances," Williams said.
Tonganoxie's track teams will compete Tuesday at the Piper Invitational in Kansas City, Kan., and at 3 p.m. Friday at the Shawnee Mission North Relays.
Blazer Invitational
May 1 at Gardner-Edgerton
Girls
Team scores: 1. Olathe East, 155.5; 2. Mill Valley, 145.5; 3. Gardner-Edgerton, 116; 4. Tonganoxie, 67; 5. Louisburg, 38; 6. Olathe Northwest, 32; 7. Paola, 24; 8. Lansing, 22; 9. Bonner Springs, 9.
Tonganoxie results
300-meter hurdles — 14. 57
400-meter dash — 2. Cristina Rubio, 1:03
4x100 relay — 6. Andie Jeannin, Megan Puhr, Cristina Rubio, Sagan Scates, 54.5
4x400 relay — 4. Andie Jeannin, Megan Puhr, Sagan Scates, Cristina Rubio, 4:22.3
4x800 relay — 4. Andie Jeannin, Megan Puhr, Sagan Scates, Lauren Hall, 11:01
Shot put — 1. Roni Grizzle, 43-9; 2. Dominique Grizzle, 34-11
Discus — 1. Roni Grizzle, 117-10 ?; 5. Dominique Grizzle, 104-4; 8. Danielle Miller, 91-1
Javelin — 1. Roni Grizzle, 140; 2. Chrissie Jeannin, 130
Boys
Team scores: 1. Olathe East, 115.5; 2. Paola, 98; 3. Olathe Northwest, 87.5; 4. Gardner-Edgerton, 70; tie-5. Bonner Springs, 68; tie-5. Louisburg, 68; 7. Mill Valley, 59; 8. Tonganoxie 30; 9. Lansing, 16
Tonganoxie results
100-meter dash — 8. DJ Lindsay, 11.5
200-meter dash — 3. DJ Lindsay, 22.6
400-meter dash — 8. Bret Koch, 53.1
300-meter hurdles — 14. Jamison Bloomer, 46.1
4x100 relay — 5. David Powell, Bret Koch, DJ Lindsay, Jeremy Carlisle, 44.6
4x400 relay — 4. David Powell, Bret Koch, DJ Lindsay, Jeremy Carlisle, 3:29.2
4x800 relay — 7. Tommy Heskett, David Powell, Matt Briggs, Caleb Himpel
High jump — 2. Austin Smith, 6; 11. Dylan Jacobs, 5-6
Pole vault — 4. Jake Willis, 12-6; 8. Ian McClellan, 10-6
Triple jump — 7. Dylan Scates, 40-5
Discus — 4. Stephen Wilson, 128-4