Queen of the diamond
Patterson homers to break state record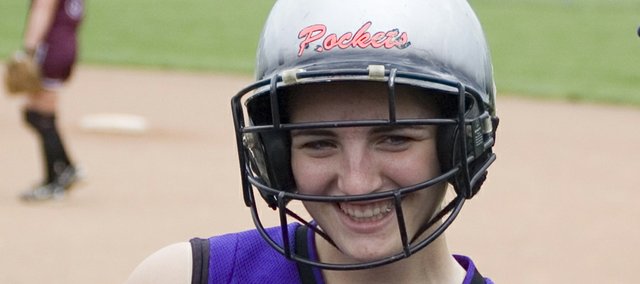 From now on, when Cinco de Mayo rolls around, it will hold a little extra weight in the heart of Kendall Patterson.
Not because of an unforgettable, epic fiesta. Instead, the McLouth High senior catcher and Kansas University softball commit will look back on May 5 as the day she made state history.
Patterson now stands alone as the career leader for hits in the state of Kansas with 153, a number that will undoubtedly continue to expand as the Bulldogs finish their season.
When MHS traveled to Holton for a Tuesday doubleheader, Patterson was tied for the all-time Kansas prep mark with Kristin Doffing of Campus, who finished her career with 147 hits in 1999.
The four-year McLouth starter didn't waste any time taking over as the new hits queen either. After seeing a couple of bad pitches, in true storybook fashion, Patterson blasted a two-run homer over the left-field fence in the top of the first inning to become the new record holder.
"I didn't think that it was gone," Patterson said in a phone interview while riding home on the team bus Tuesday night. "I thought the left fielder was gonna catch it."
When the ball soared over the fence, her emotions shot just as high.
"I was just really happy," she recalled. "It's a really cool thing but I'm just excited for the rest of our season and everything."
That's the kind of response one would expect from Patterson, always quicker to shy away from the spotlight than bask in it. She finished the doubleheader 6-for-7 but was basically bummed because McLouth lost both games, 6-5 and 9-2.
"It's a really cool thing to get but I would have rather won the games," she said.
With the record behind her and a talented team surrounding her, Patterson just hopes she can help the Bulldogs (13-3) reach their goal of a return trip to the Class 3A state tournament.
"We've got a whole bunch of good girls and I'm excited for what we're going to do the rest of the season," she said.