County dispatcher becomes health drink guru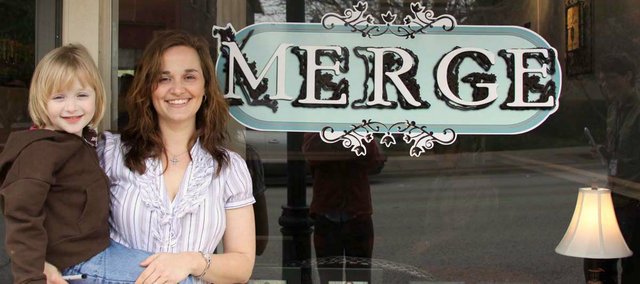 About a year and a half ago, Amy Aaron said she was at a low point in her life.
While working as a Leavenworth County dispatcher, she began getting migraines that she could describe only as "blinding."
"I was tired, had no energy, weighed 200 pounds and was miserable," she said.
Aaron's solution was simple: start drinking health shakes. She started a regimen of Herbalife products and started seeing a difference.
"This was me in January 2008," she said, holding up a picture of herself. Then she boastfully compared it with another self-portrait: six months later, 56 pounds lighter.
Now, Aaron has bigger ambitions. She just opened Merge, an Herbalife product shop, at 612 E. Fourth St.
She describes her shop as a friendly hangout where people can come in for a nutrition shake, conversation, insight and tips.
"This is going to be the light of Tonganoxie," she said.
And although she's still a county dispatcher, she said this shop was an additional way to help others.
"Being a dispatcher, you always have negativity. There's no closure for the stories," she said. "With this industry, I can help somebody from the beginning to the end. Here, I can smile, say 'What's your story?' and 'How can I help you?'"
Amy Harris, an administrative assistant at the Tonganoxie Chamber of Commerce, recently signed up for a six-week Herbalife program through Aaron's shop.
"I thought, 'OK, I'll come down and try a shake.' I was hooked," she said.
She said the shakes were an easy alternative to eating breakfast, a meal she was "notorious" for skipping.
"The people here are motivational. It's encouraging," she said. "It's kind of a twist on a coffee shop."
Aaron said local response to the shop has been very positive so far. She's been making shakes and giving wellness evaluations to dozens of residents, friends and even police officers.
"I want people to be healthy and start walking their path," she said. "I live for this."