Forensics finishes 3rd at state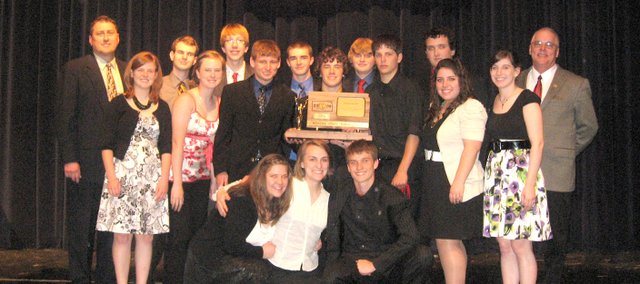 The usual suspects led the pack at the Class 4A State Speech and Drama Championship on Saturday at Washburn Rural High School in Topeka.
In 2008, Tonganoxie High School took the team title, while Buhler finished second and Fort Scott third.
This season, THS and Fort Scott flip-flopped, as Fort Scott won the title and Tonganoxie placed third. Buhler again finished second.
Tonganoxie looked to repeat, but wasn't able to accomplish the feat against a field that THS coach Steve Harrell said possibly was the largest tournament in state history.
"I think our students always have their eyes on that championship," Harrell said. "However, this season the competition in the top six schools was just one of those years where they all had very good teams.
"And Fort Scott, which won the tournament, had a tremendous team."
Harrell also noted Sumner Academy from Kansas City, Kan., "had a remarkable team this year."
Sumner placed third at the 5A tournament in 2008 and placed fourth this season in 4A.
The overall tournament award is known as sweepstakes. Harrell said it's scored similar to a track meet, as points from individual events go toward the overall team total.
Had THS won Saturday's sweepstakes competition, it would have been the fourth forensics championship in school history. In addition to 2008, the Chieftains also won in 2005 and 2003.
Tonganoxie had a mix of third- through fifth-place finishes in this year's state championships.
Doug Emerson placed third and Matt Doyle fifth in Lincoln-Douglas debate, Alicia Osborne third in oration, Sarah Swaim in informative and Haley Field in prose interpretation.
Semifinalists who did not advance to finals were:
• Ryan Brammer, eighth in prose interpretation and ninth in poetry interpretation.
• Emily Jefferies, ninth in informative.
• Nik Irick, ninth in oration.
• David Powell, 12th in extemporaneous.
• Austin Baragary, ninth in humorous solo.
• Cody Somers, 12th in humorous solo.
Other members of the THS team that took third at state were Ben Field, Emily Gripka and Lindsey Truesdell.
Several Tonganoxie students also participated in a separate event Saturday at the state speech festival on the Kansas City Kansas Community College campus.
Students with "I" ratings were Megan Schenk and Michael Christensen, each in prose interpretation; Nancy Rounda, poetry interpretation; Maggie Gripka, informative; Miranda Bontrager, prose and poetry interpretation; Marcus Titterington and Matthew Briggs, duet; and Hayley Wheeler and Lacie Falk, each with serious solo.
Students from THS receiving "II" ratings were Alex Bartels, extemporaneous; Kelsey Wagner and Mary O'Brien, duet; and Marcus Titterington and Matthew Briggs, improvised duet.
The team will finish out the season May 23 and 24 at the National Catholic Forensics League tournament in Albany, N.Y.