Signs tell possible flu sufferers to stay away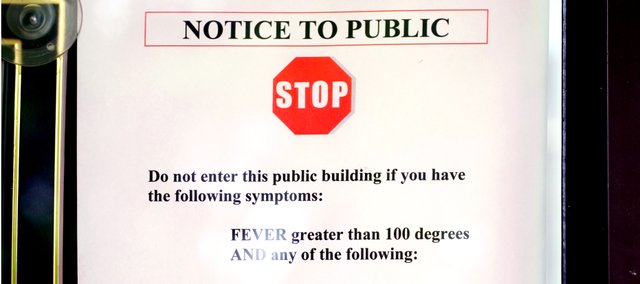 Despite only a handful of reported cases of H1N1 flu virus in the state, Leavenworth County Health Department officials are still keeping a vigilant eye on the situation to make sure residents are safe.
On Friday, department officials placed warning sings on government buildings across the county asking people to stay away if they have any flu-like symptoms.
"We are just wanting to make sure that they understand that county buildings and city buildings are public buildings and that if they are feeling ill, especially if they have fever, we would hope that they would avoid going into public," said Donna Martin, Leavenworth County Health Department director.
Martin said it's not that the county health department doesn't care about the people who are ill, "but we don't want them to come into a public building and expose a lot of people."
The Kansas Department of Health and Environment reports that there were two confirmed cases of the virus in Dickinson County. And on Friday, the KDHE announced a probable case in a hospitalized patient in Johnson County. On Monday, the KDHE announced three "presumptively confirmed" cases in Johnson, Sedgwick and Wyandotte counties.
The KDHE Web site defines "presumptively confirmed" as "while tests performed at the state public health laboratory have indicated the presence of the epidemic strain, the results have not yet been verified by the CDC."
The Missouri Department of Health and Senior Services reports two confirmed cases of the virus and six probable cases with one case reported in Platte County.
To help people in the county stay informed and "be prepared, not scared" the health department is constantly updating its Be Prepared Leavenworth County Web site at www.bepreparedleavenworth.org.
Martin said this site was going to be the county residents' most valuable tool in case of a large scale pandemic outbreak.
She said the site also provides information on frequently asked questions and, most importantly, gives tips on how to avoid getting ill.
Martin said there have been no reported cases of the H1N1 virus in the county as of Tuesday.