THS

boys track team wins another title
Chieftain girls finish third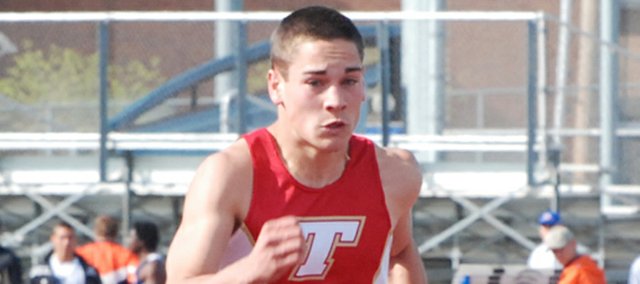 The Tonganoxie High boys track team won its fourth meet of the season on Tuesday at the Piper Invitational in Kansas City, Kan.
Junior DJ Lindsay was a part of three first-place finishes for the Chieftains as they scored points in 15 events and totaled 143.5 team points, 11.5 better than host Piper, to capture another team title. Lindsay won the 200- and 400-meter dash races and teamed with David Powell, Bret Koch and Jeremy Carlisle to win the 4x400 relay.
The THS girls finished third at Piper without regular points contributor senior thrower Roni Grizzle, who sat out the meet.
In her absence, her younger sister, sophomore Domino Grizzle, won the shot put and discus events for Tonganoxie.
Piper Invitational
Girls
Team scores: 1. Piper, 136; 2. Lansing, 96; 3. Tonganoxie, 78; 4. Pembroke Hill, 73; 5. St. Teresa's Academy, 54; 6. Basehor-Linwood, 53; 7. Bishop Ward, 30; 8. Schlagle, 18; 9. DeSoto, 16
Tonganoxie results
400-meter dash — 1. Cristina Rubio, 1:03.79
800 meters — 2. Lauren Hall, 2:39.15
100-meter hurdles — 7. Emma Slater, 20.28
4x100 relay — 4. Andie Jeannin, Megan Puhr, Cristina Rubio, Sagan Scates, 55.08
4x400 relay — 2. Andie Jeannin, Megan Puhr, Sagan Scates, Cristina Rubio, 4:25.27
4x800 relay — 1. Andie Jeannin, Megan Puhr, Sagan Scates, Lauren Hall, 10:44.47
Shot put — 1. Domino Grizzle, 35-6; 8. Eva Drennan, 26-5; 9. Makayla Sample, 23-6
Discus — 1. Domino Grizzle, 107-7 ½; 2. Danielle Miler, 90-5; 15. Makayla Sample, 55-3
Javelin — 2. Madi Yates, 104-8; 5. Danielle Miller, 93-11; 9. Kenzie Cadue, 65-11
Boys
Team scores: 1. Tonganoxie, 143.5; 2. Piper, 132; 3. Lansing, 89; 4. Schlagle, 82; 5. Basehor-Linwood, 52; 6. Bishop Ward, 32; 7. DeSoto, 15; 8. Pembroke Hill, 12.5
Tonganoxie results
200-meter dash — 1. DJ Lindsay, 22.96
400-meter dash — 1. DJ Lindsay, 52.6; 8. Tommy Heskett, 56.06; 14. Austen Holloway, 58.18
800 meters — 1. Jeremy Carlisle, 2:03.73; 7. Caleb Himpel, 2:17.68
1600 meters — 12. Shawn Marin, 5:30.52; 16. Robert Brotherton, 5:49.32
3200 meters — 9. Joel Dunning, 11:36.78; 15. Matt Titterington, 12:34.46
110-meter hurdles — 2. Austin Smith, 17.74; 5. Devin Botts, 20.33
300-meter hurdles — 4. Jamison Bloomer, 45.51
4x100 relay — 3. David Powell, Bret Koch, DJ Lindsay, Jeremy Carlisle, 44.59
4x400 relay — 1. David Powell, Bret Koch, DJ Lindsay, Jeremy Carlisle, 3:30.12
4x800 relay — 2. Tommy Heskett, David Powell, Matt Briggs, Caleb Himpel, 8:45.71
High jump — 2. Austin Smith, 6-2; 4. Dylan Jacobs, 5-8
Pole vault — 1. Jake Willis, 12; 2. Ian McClellan, 11—6; 6. Cody Martin, 8-6
Long jump — 3. Dylan Scates, 18-5; 6. Jared Knipp, 17-5; 7. Tyler Basso, 17-3
Triple jump — 2. Dylan Scates, 40-1; 7. Shawn Marin, 33; 8. Michael Briones, 32-8
Shot put — 5. Stephen Wilson, 36; 11. Bryson Hewins, 32-2;
Discus — 1. Stephen Wilson, 137-11 ½; 5. Richie Ridihalgh, 98-5; 9. Bryson Hewins, 94-6 ½
Javelin — 2. Shawn Roberts, 151; 3. Dallas Jacobs, 136; 5. Reece Hollingsworth, 134-1