City council to look at changing dog ordinance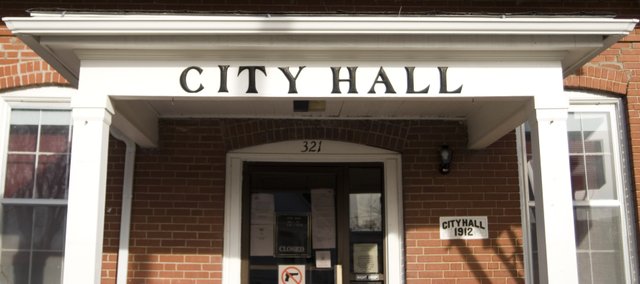 Good dogs with a bad reputation might soon be getting a second chance in Tonganoxie.
On Monday the Tonganoxie City Council directed city staff to look at reliable and impartial statistics on dog-related attacks to see if it needed to update its ban on specific dog breeds.
This direction came after Casey Allen approached the council to get an exemption from the city's 16-year-old ordinance banning pit bulls and rottweilers.
Allen recently moved into Tonganoxie with his family, which includes a rottweiler. Allen said he was unaware of the ban when he came to Tonganoxie. Allen was given a 10-day notice to remove the dog from the city limits.
"If I had known you couldn't have them I wouldn't have moved here," Allen told the council. "I can't get out of my lease and I can't lose the dog, he's part of my family."
While the members of the council empathized with Allen's situation they agreed they could not grant Allen an exemption without changing the 1993 ordinance. Even adding changes such as muzzling specific breeds of dogs that are considered more vicious would require a legislative change.
"It's a black and white rule with no exceptions," Mike Kelly, city attorney said about the ordinance. "It's easily enforced and easily interpreted. I love dogs too, but I would say keep the ordinance as it is."
Kelly said even having the proper insurance would not be sufficient liability coverage for having a dog on the banned list. Kelly also told Allen to check with his insurance company to see if they covered his breed of dog.
New councilmember Burdel Welsh said he appreciated Allen coming to the council with this situation and suggested that the city look into possibly updating the list of banned dogs.
In a small 18-town survey of dog bans in the state, 11 of them did not specifically ban rottweilers.
"From '93 to '98 pit bulls and rottweiler were identified as dogs involved in most attacks," Welsh said. "I just don't know if that information is stall valid 16 years later. If it is, I don't have a problem keeping the current ordinance. If it's not, there might be some room for change."
City staff will come back with the results of their findings at the next council meeting May 18.
Allen will still be responsible for getting his rottweiler outside of the city limits until the ordinance is changed.
In other business the council:
• Listened to Tonganoxie Mayor Mike Vestal's 2009 appointments. Included in the staff appointments are: Kathy Bard for city clerk, Mary Conway for deputy city clerk and court clerk, JoAnn Ferguson for city treasurer, Mike Kelly for city attorney, Kenny Carpenter for police chief, David Bennett for fire chief, William Pray for municipal judge, Michael Mogenson for city prosecutor, James Yoakum for deputy city prosecutor, First State Bank & Trust for official depository, The Mirror as the official city newspaper, the Lawrence Journal-World or the Leavenworth Times as the secondary city newspaper.
• Unanimously voted, 4-0, to renew the farm lease agreement between Elder & Sons, L.L.C. and the city of Tonganoxie for leasing around 53 acres of city property near Linwood for agriculture. Councilmember Jason Ward was absent.
• Tabled the vote to agree or disagree with the interlocal agreement regarding the development and payment of County Road 1 that was hashed out between the city and Leavenworth County. Councilmember Tom Putthoff had many questions concerning the agreement and Vestal wanted every member of the council to be there for the vote. Ward was absent from Monday's meeting. Vestal told the council that he spoke with county officials and the county officials said they were not in any rush to have the city sign the interlocal agreement.
• Unanimously agreed to spend $3,049.94 for a Dolphin Wave 100 pool vacuum unit from Commercial Aquatic Services, Inc. Yanez said that last year pool staff had to come in early and spend several hours vacuuming the pool with a standard pool vacuum. He said this automatic vacuum can be started overnight and have the pool vacuumed by the next day.
• Listened as Yanez told the council about a letter sent out by Kansas Attorney General Steve Six about the Tonganoxie City Fire Department's efforts to rescue a woman who had fallen into Tonganoxie Creek.
• Met in executive session for 10 minutes with Kelly and Yanez to discuss potential litigation and trade secrets. The council took no action during the executive session, but then unanimously voted to enter into a confidential agreement with Re/Max Action realty.
• Met in executive session for 20 minutes with Gary Nelson, Brenda Wood and Andy Guillino, Kelly, Yanez and Bard to discuss confidential data relating to financial affairs or trade secrets of corporations, partnerships, trusts, and individual proprietorships. No action was taken.