Need for rural doctors critical
State program aims to lure students into filling void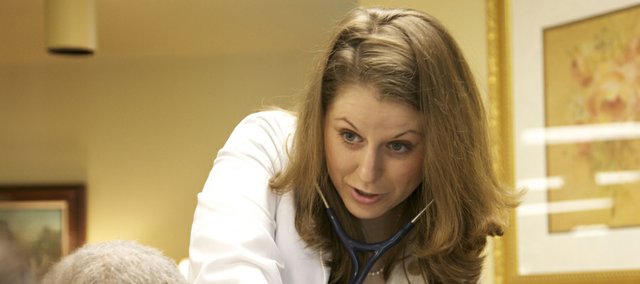 Wanted: rural Kansas doctors.
"There's a need nationwide for primary care, and it's only exacerbated — made worse in rural and underserved areas, and Kansas is a state that is mostly rural and has some real problems," said Dr. Heidi Chumley, senior associate dean for medical education at Kansas University Medical Center.
"We know that when there is a primary care base that the cost of health care is lower and the outcomes are better."
Joyce Tibbals is director of the Wichita-based Kansas Recruitment Center, which helps rural communities recruit and retain doctors. When the center opened in 2004, 22 rural health organizations were seeking to fill 63 positions. Now, there are 75 needing to fill more than 200 positions.
Tibbals said the biggest demand is for doctors in family medicine and internal medicine. Those areas are closely followed by orthopedic surgery, general surgery, and obstetrics and gynecology.
There are programs that offer incentives for KU medical students to enter some of those fields and then practice in a rural area.
'Good' program
One of them is the Kansas Medical Student Loan Program, which pays for tuition and provides $2,000 a month for living expenses. Tuition costs $23,700 for a Kansas resident and $42,000 for a nonresident. When monthly stipends are added, the program can save a first-year, in-state student $41,700 and a third-year, out-of-state student $64,700.
Students in the program must practice in a rural community of Kansas for every year of participation. That rural town can be in any county except Douglas, Shawnee, Sedgwick or Johnson.
"It's a really good program," Chumley said. "Six out of 10 students who choose into the program end up paying back through service in an underserved rural community."
If they don't fulfill their obligation, students have to begin paying back their loan within six months of being out of compliance, and they have to pay it back with 15 percent interest. Chumley said a majority of the students who fall out of compliance do so because they decide to go into a specialized area.
The program is partly funded by those who are repaying their loans. In 2008, that amounted to $1.5 million.
But most of the loan program's funding comes from the state, which has provided about $2.5 million for the past several years.
The program pays for only 30 students per year. Chumley said sometimes a few students are turned down.
Still in Tribune
Dr. Bob Moser, of Tribune in western Kansas, said he would like to see more funding for more loans.
Why? Well, he is proof the program works.
In 1976, he graduated from Greeley County High School in Tribune and left for Lawrence, where he studied pharmacy at Kansas University.
He never imagined he would return to Tribune, which is about 60 miles south of Goodland near the Colorado border.
He signed up for the student loan program, but didn't decide to fulfill his obligation in Tribune until six months before becoming a doctor. Moser said he and his wife both grew up there and were expecting their first child, so they decided to give the program a try.
"We figured four years and we'd move back closer to Lawrence. Twenty-one years later, we are still here," he said with a chuckle.
Moser works in a practice that has five doctors who cover Wallace, Greeley and Hamilton counties. Each doctor sees about 25 patients a day. Two of Moser's newest partners also were loan recipients.
Life was much different when he began working in 1988.
Then, Greeley County Hospital's annual gross revenue was $800,000, Moser said. There were 42 employees between the hospital, clinic and a long-term care facility. He was the only full-time doctor.
"I was seeing 40 people a day, covering the ER and delivering babies 24/7," he said.
Today, the hospital has five doctors, three mid-level health care providers, two physical therapists and 160 employees. Its annual revenue is $12 million.
'Drastic, dire need'
While the loan program has helped, Moser said it's not enough.
"There is a drastic, dire need for physicians across the state," he said.
His practice has been providing clinical services and support in Syracuse, a town of about 1,800 people about 30 miles south of Tribune. It has been searching for a doctor to locate in Syracuse for two years.
"We've talked to a lot of medical students and residents, and it's tough because they look at that community and realize they are essentially going to be the only doctor that's in town 24 hours a day," Moser said. "To a new resident, that looks a little scary."
Ideal location
Dr. Clint Colberg decided to fulfill his student loan obligation in Holton, which is 30 miles north of Topeka. He said he had plenty of options but picked the town with a population of 3,200 people for a couple of reasons.
He had a friend, Vance Lassey, who was a year ahead of him in medical school, and they wanted to practice together. So they picked a place that needed two doctors, but also one that wasn't too far from a city.
"Both of our wives grew up in larger towns, so it worked out for them as well," he said with a smile.
Colberg, a family physician, began practicing in August. So far, he has no regrets about signing up for the loan program.
"I think my salary is pretty comparable to family physicians everywhere. I actually think there is a chance for a better salary in a smaller town because there is a greater need. It's kind of a supply and demand. If there is a greater demand, I think you can command a higher salary," he said.
Colberg, 30, said he hopes to settle down in Holton with his wife, Kristy, and three children, Kylie, 9, Carter, 2, and Cade, 4 months.
"We wanted to move to a place where our kids could grow up and kind of have the same friends and be able to play sports and do things and kind of have that stable environment," he said.
Economic drivers
That's good news for Holton Community Hospital CEO Ron Marshall, who is helping to turn around the financially struggling hospital. Just two years ago, there was only one doctor.
Today, there are four doctors, and another doctor is set to begin practicing in September.
"If you are short on doctors or don't have providers, it is very, very difficult to sustain a hospital because they have to order the procedures, they have to admit the patients, and they have to do the surgeries and procedures," he said.
Colberg said there are perks to working in a small-town setting. One of them is getting to handle a larger variety of medical cases. That's because there are not specialists readily available like in larger cities.
"You probably have to be a little more resourceful and take care of more things yourself that might be a little out of your comfort zone, but I also think that's how you grow and become a better doctor."
He also really gets to know his patients and often sees them outside the office. He considers some to be his friends.
"I think that helps me out when I am trying to do my job," he said. "It can be difficult when something bad happens. But overall, I think that's what attracted me to smaller-town medicine — that ability to have that kind of a relationship with people."
Urban challenges
The loan program doesn't benefit four counties that also serve rural areas. For example, Lawrence Memorial Hospital has to recruit doctors to Baldwin City and Eudora.
LMH CEO Gene Meyer thinks the program is good for other parts of the state, but it fosters competition in Douglas County.
"It does present some challenges when candidates compare the financial benefits allowed them by going to underserved areas versus maintaining a long-term financial debt," he said.
Meyer said there is a real need for primary care doctors and believes the loan program is helping to fulfill that need, especially because the income isn't as attractive as a specialty.
Still, he also thinks that might help Douglas County down the road. Maybe doctors who fulfill their obligations in rural areas eventually land in the area.
According to KUMC, 150 students who graduated between 1992 and 2004 have fulfilled their loan promise. But there is no data on where they might be practicing today.
A similar program called the Kansas Bridging Plan does follow its recipients.
About 150 doctors have completed their obligation to serve three years in a rural area during the past 18 years, and 76 percent have chosen to stay.