Injuries alter Tonganoxie soccer lineup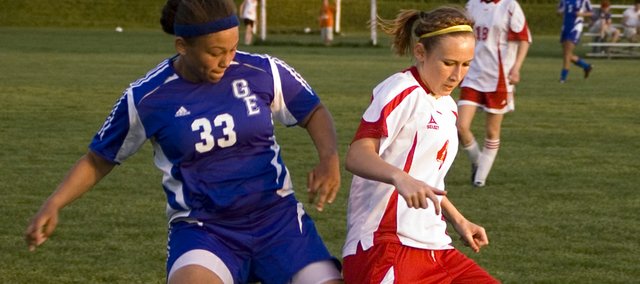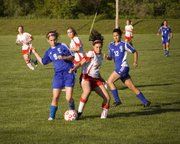 Injuries have been quite the bugaboo for Tonganoxie High's girls soccer team in 2009.
Jordan Gagne was sidelined for the entire season. Defenders Kendra Walters and Taylor Colgrove missed a chunk of the schedule.
When Chieftains goalkeeper Alex Bartels injured a tendon in her thumb, coach Ken Lott had to have somebody to man the net.
Good thing THS had senior leader Mallory Wetta to fill in — even though she had never played goalie before April.
Wetta worked with assistant coach Justin Seever on some goalkeeping techniques and he liked her natural reactions. She ended up playing keeper some in junior varsity matches. When Bartels' doctor said she shouldn't be playing goalie, Lott turned to Wetta.
"You throw anybody in the goal and sometimes you wonder what you're going to get," Lott said. "And if you know her as a defender, she's very attacking and she's not going to let things go easily. You're going to have to earn it."
That proved to be the case this past week as Wetta started her first three varsity games in goal. The Chieftains went 1-2 but in the three matches they were only outscored 5-4. They lost, 3-2, in overtime at Spring Hill, won, 2-1, against Ottawa and lost, 1-0, on Friday to visiting Gardner-Edgerton.
Wetta said it was difficult to step into her new role.
"It was really scary," she said. "Every game that I start goalie in varsity, I always pray because I get so scared. I'm really nervous that I'm going to get so many shots scored on me."
But GEHS scored just one goal, in the 17th minute, on Friday, and even though the Blazers had plenty of attack chances in the second half, THS shut them out. Although the match will go down as a loss, unofficially, Lott viewed it a win considering Tonganoxie (5-9) lost to Gardner, 7-0, earlier this season.
"Mallory did a good job in goal, cutting a lot of their shots out," Lott said.
Wetta credited her teammates for their defensive help and said before the start of each match she reminds them to have her back.
"If I didn't have Kendra, Taylor and Colby (Bennett) back there, and Carson (Simmons), I would be scored on all the time," Wetta said. "It's just like a team effort back there."
But Bartels, who has been playing in the field with her thumb injury, said the senior deserves some credit too.
"She's too modest about it," Bartels said. "It's her first year playing goalie — ever.
"She's doing so amazing. I'm so proud of her. I know that sounds weird, like the sophomore talking about the senior, but she's just genuinely that good person."
Bartels started on the field (not in goal) last season. So the adjustment for her has been minor.
"It was kind of like slipping back into an old job, I just hadn't done it in so long," she said. "It's taken some catching up."
With all the injuries that have caused her teammates to miss action, though, Bartels said she was thankful that she could still be a part of the team.
Lauren Williams and Addy Phelps scored for the Chieftains on Thursday at home, leading the team to its fifth victory of the season.
THS plays Tuesday at Basehor-Linwood. The team closes its regular season with a 4:30 p.m. match Friday at Maranatha Academy. Regional matchups will be announced Saturday.