THS

golfers lose tiebreaker, take 2nd at

KVL
Yates wins league title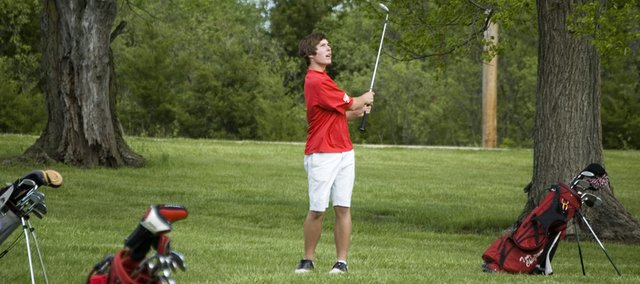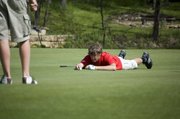 The Kaw Valley League golf championship on Monday at Overbrook was a bit of a mixed bag for Tonganoxie High, filled with good, bad and a little disappointment.
Good: Freshman Colby Yates won the individual title by shooting 75.
Bad: The Chieftains felt like they didn't play their best.
Disappointment: Although THS shot 337 as a team, which tied Santa Fe Trail for the best score, Tonganoxie lost the tiebreaker — the Chargers' No. 5 golfer had a lower score than Tonganoxie's — and finished just shy of a league title.
Ultimately, an individual championship and a second-place finish at league is pretty good. But coach Jared Jackson said it was the knowledge that the team was capable of more that made second place sting.
"I have mixed feelings about today because we did tie for first, but we really didn't play that well," he said.
Even Yates had a rough beginning to his day. He said his first three holes were forgettable.
"That was probably the worst part of the day," the KVL champ said.
On the second hole, a par three, Yates yanked his tee shot out of bounds.
"I'm trying to stay calm," he said of his thought process at the time. "I started freaking out at that point but I came back with two or three good holes in a row."
Jackson said Yates' poise allowed him to regroup in a hurry.
"Colby is a pretty mature golfer for his age," the coach said. "He understands the game and does not panic."
Three holes after his errant shot left the course, Yates recorded an eagle. Jackson said that allowed him to relax and start playing like he usually does (the tournament win was Yates' fourth of the season) and win the league title as a freshman.
"That's pretty impressive," Jackson said. "That's just a result of what Colby's put into the game."
Yates said the whole team got off to a rough start.
"We all struggled on the front nine and everybody's scores were a lot better on the back nine," he said. "We played OK overall, but we didn't play our best."
The setup of the nine-hole course, which meant the players got a second stab at the same holes on the back nine, made a big difference, Jackson said. After the first nine holes, he didn't think Tonganoxie would be in contention for a league crown, but everybody improved later in the day.
Preston Putthoff shot an 85, one stroke above his season low, on Monday thanks to a good afternoon from the tee box. As he was playing the back nine, he said the team started realizing it would have a chance at the league championship.
"I heard we were possibly going to win it, but we didn't," Putthoff said. "It's kind of disappointing."
Mitch DeHoff shot an 87 for THS, Justin Jacobs recorded a 90 and Tanner Hale finished with 92.
Normally, the team would have six scores, but senior Dalton Lawson, who got off to a retched start, decided to withdraw so he could go attend a college class he is taking.
Jackson hoped the players learned from their league experience so the team can fare even better when it plays its regional tournament at Heritage Park in Olathe on Monday. The top two teams there qualify for the state tournament, as do the top five golfers from non-qualifying teams.
"St. James Academy would be the favorite and then there are quite a few teams in the hunt for second place," Jackson said. "I believe it will take a score between 325 to 335 to qualify."
KVL Team Scores
1. Santa Fe Trail, 337
2. Tonganoxie, 337
3. Mill Valley, 341
4. Bonner Springs, 342
5. Basehor-Linwood, 343
6. Lansing, 347
7. Perry-Lecompton, 370
8. Piper, 377
9. Turner, 528