5 Questions: Batter Up
TRC

continues work on new baseball fields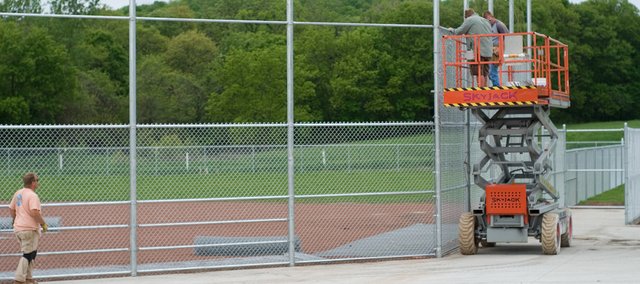 Q: How many ball fields are being constructed on the land north of the current TRC ball fields?
A: Three ball fields are under construction. Two fields are 200 feet and the third is 300 feet.
Q: Are any of the fields baseball or softball-only fields?
A: The 200-foot fields can be used by all girls leagues and the U8 and U10 boys leagues. The 300-foot field can be used by the U12, U14 boys leagues and all adult leagues. All of the fields have been designed to accommodate as many different leagues and age groups as possible.
Q: What's the total cost of the project and how is it being funded?
A: The total project cost to date is $450,764. Lighting of the project has not gone to bid at this time. Lighting of the fields is under review and will go to bids in the near future. All bids for the project have come in under engineers' estimates. The City of Tonganoxie and the Tonganoxie Recreation Commission entered into a Certificate of Participation. The City of Tonganoxie assumed the debt; the Tonganoxie Recreation Commission will retire the debt over the next 10 years.
Q: When will the fields be completed and ready for play?
A: Plans call for the first games to be played at the new fields in the spring of 2010.
Q: Will the increase in fields allow for Tonganoxie to play host to more tournaments?
A: Yes, the addition of the fields will bring the opportunity for out-of-town teams to come to Tonganoxie.