Board approves fee increases
Lack of funds squelches random drug testing talks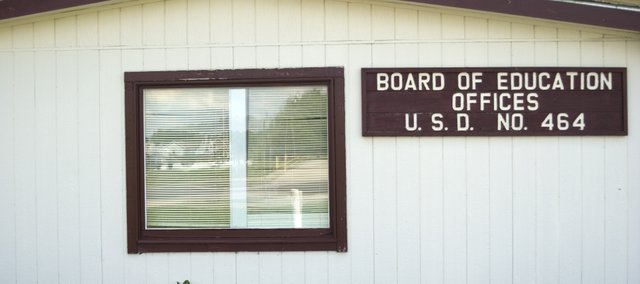 Tonganoxie School District families will see an increase in student fees in 2009-10 and a new pay-to-ride policy for some students wishing to ride the school bus.
At Monday's school board meeting, the board approved, 6-0, to increase most meals by 15 cents, as well as charge an annual fee of $2,200 for all out-of-district kindergarten students. Assistant superintendent Kyle Hayden said the fee was set as half of the rate for state aid per pupil at the start of the school year, which was $4,400. Districts receive that funding per student in grades 1-12, but receive half of that per kindergarten student.
In addition, out-of-district students accepted after Sept. 20 also will be required to pay $2,200 in 2009-10. Previously there was no such fee for out-of-district students who were accepted after the date, which is when districts take an official count that determines how much state funding the district receives for that school year.
The pay-to-ride policy, meanwhile, calls for students who live less than 2.5 miles from the school they attend to be charged $240 to ride if their parents wish to utilize the service. If more than one student in the household lives less than 2.5 miles away from the schools they attend, the maximum charge per household will be $360. The measure was approved unanimously, 6-0.
If students live within certain boundaries from their schools, they will not be eligible for the pay-to-ride service. Previously, the district did not charge busing fees, but did have areas of close proximity to schools in which students were not picked up on routes.
Regarding activity passes, family passes will increase $10 to $60 for an annual pass. Student passes will remain at $20. That money will go into the general fund as well. Previously, it went to the athletics fund.
Board member Leana Leslie was absent from the meeting when the votes were taken.
administrative position
The district will be searching for an additional administrator at the central office.
The board approved Hayden's recommendation, 7-0, to create the position, which will provide support with Title I and at-risk programs, as well as educational services, staff development programs and handling state and federal reports.
Hayden said he thought a master's degree in administrative curriculum should be a requirement, and that the position possibly could carry an 11-month schedule, similar to a principal.
The pay range would be between $50,000 and $60,000. He said the salary was the difference in savings of not having an assistant superintendent beginning July 1, as Hayden will become superintendent and current superintendent Richard Erickson special projects manager at that time. Erickson will work part-time for a salary of $36,000 and will work with alumni and the education foundation in fundraising ventures.
Hayden said he hopes someone could be hired for the new position within a month.
Resignations and hirings
After a total of 1 hour, 45 minutes in executive session to discuss personnel, the school board approved the resignation of Karla Holton as high school cheerleading coach.
Renee Bradley and Sondra Sparks were hired as elementary school teachers and the classified work agreement was approved as amended for 2009-10.
Summer school contracts also were approved, while supplemental contracts for 2009-10 were approved as presented and amended, excluding spring sports, which still are in session.
In other business, the board:
• Approved the low bid of $59,151 from Performance Asphalt for district asphalt work.
• Heard from Trane representatives, as well as TMS teacher Michael Bush and students Jordan Woods and Danielle Irwin, about Trane's energy curriculum for sixth grade. The final lesson of the six-week curriculum involves writing to legislators about energy efficiency. Bush said a few students would hand-deliver the letters to the Statehouse in Topeka.
Trane official Erin Rau, who led many of the classes, said the course in Tonganoxie was the first Trane has done in the Kansas City area.
"This is one of the first times in the country, so you're definitely on the leading edge," she said.
no Random drug testing
The school district won't hire a company to administer random drug tests to students — at least not presently.
Site council member Tim O'Hagan spoke to the board about hiring a company to do random drug testing, but that it could cost between $10,000 and $20,000, depending on how many tests are administered.
He also noted the tests could be administered by district staff, but it can bring a perception of not being as random.
"I'm in favor of a company to do it if we had the money," board member Leana Leslie said. "Doing it ourselves, I think it reduces some of the validity of protecting the privacy of students. It puts staff in an awkward situation. If we can't afford having a company to do it, then I say we wait."
Fellow board member Darlyn Hansen inquired about grant money, which Hayden agreed might be a solution.
"Until there's some alternative funding availability, such as federally through grants, it will be really difficult to implement something like this in the short term," Hayden said. "Because we would be doing so in lieu of other things we're cutting, we would have to fit this in on the priority list.
"At the present time I would say it would need to be put to rest for some time."