Both
THS

track teams 3rd at

KVL
Chieftains league champs in eight events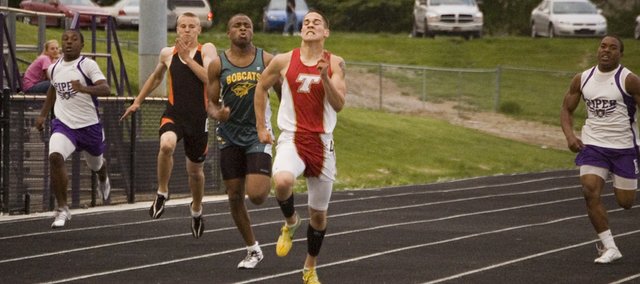 Photo Gallery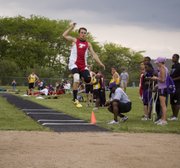 Tonganoxie track at KVL
Tonganoxie High athletes won eight Kaw Valley League events on Wednesday, May 13 at Piper High in Kansas City, Kan. The boys and girls teams finished third in the KVL standings.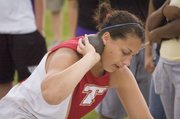 Kansas City, Kan. — Although Mill Valley High swept the team titles at the Kaw Valley League Championships on Wednesday, Tonganoxie athletes won league crowns in eight events, propelling the Chieftain girls and boys to third-place finishes.
THS senior thrower Roni Grizzle won all three of the Tonganoxie girls' individual titles by sweeping the throwing events. Grizzle was the 2009 KVL champ in javelin, discus and shot put. Her winning heave of 44 feet, 3 inches in the shot marked a new meet record as well as a personal and school best.
Junior Tonganoxie runner DJ Lindsay won two individual titles and was part of a champion relay team on Wednesday. Lindsay won the 400- and 200-meter dashes before teaming with Jeremy Carlisle, David Powell and Bret Koch to cap the night with a 4x400 relay title.
Carlisle was KVL champ in the 800-meter run and Dylan Scates triple jumped to a new personal record of 42 feet, 2 inches to win a league title of his own.
A number of Chieftains came very close to winning KVL crowns as THS finished second in six events.
Behind Grizzle in each of the girls throwing events was a Chieftain. Her younger sister, sophomore Domino Grizzle, finished second in the shot put and discus while fellow senior Chrissie Jeannin was second in the javelin.
The THS girls 4x800 relay team of Megan Puhr, Lauren Hall, Sagan Scates and Cristina Rubio also placed second.
Among Tonganoxie boys, Jake Willis was runner-up in the pole vault and Austin Smith took second place in the high jump.
Kaw Valley League Meet
May 13 at Piper High
Girls
Team scores
1. Mill Valley, 205
2. Perry-Lecompton, 83
3. Tonganoxie, 77
4. Piper, 76
5. Santa Fe Trail, 60
6. Lansing, 46
7. Basehor-Linwood, 35
8. Bonner Springs, 11
9. Bishop Ward, 10
10. Turner, 8
Tonganoxie KVL champs
Shot put — 1. Roni Grizzle, 44-3 *new meet record
Discus — 1. Roni Grizzle, 115-9
Javelin — 1. Roni Grizzle, 144
Other THS results
400-meter dash — 4. Cristina Rubio, 1:04.73; 5. Andie Jeannin, 1:04.75
800 meters — 7. Lauren Hall, 2:42.9
4x100 relay — 8. Cristina Rubio, Sagan Scates, Andie Jeannin, Megan Puhr, 55.36
4x400 relay — 4. Andie Jeannin, Lauren Hall, Sagan Scates, Cristina Rubio, 4:25.17
4x800 relay — 2. Megan Puhr, Lauren Hall, Sagan Scates, Cristina Rubio, 10:33.44
Pole vault — 6. Dannie Oelschlaeger, 7
Shot put — 2. Domino Grizzle, 38-8 ½
Discus — 2. Domino Grizzle, 112-4 ½; 7. Danielle Miller, 93-9 ½
Javelin — 2. Chrissie Jeannin, 137-9; 12. Madi Yates, 91-9
Boys
Team scores
1. Mill Valley, 132
2. Bonner Springs, 124
3. Tonganoxie, 88.5
4. Santa Fe Trail, 66.5
5. Piper, 61
6. Lansing, 54
7. Perry-Lecompton
8. Basehor-Linwood, 26
9. Turner, 14
10. Bishop Ward, 4
Tonganoxie KVL champs
200-meter dash — 1. DJ Lindsay, 22.67
400-meter dash — 1. DJ Lindsay, 51.44
800 meters — 1. Jeremy Carlisle, 2:02.93
4x400 relay — 1. Jeremy Carlisle, David Powell, Bret Koch, DJ Lindsay, 3:30.14
Triple jump — 1. Dylan Scates, 42-2
Other THS results
400-meter dash — 15. Tommy Heskett, 56.1
800 meters — 18. Matt Briggs, 2:19.47
1600 meters — 6. Matt Briggs, 4:56.06; 15. Joel Dunning, 5:22.95; 20. Matt Titterington, 5:44.65
3200 meters — 22. Ben Field, 13:08.37
300-meter hurdles — 4. Jamison Bloomer, 44.09
4x100 relay — 4. Bret Koch, David Powell, Jeremy Carlisle, DJ Lindsay, 44.7
4x800 relay — 5. Jeremy Carlisle, Caleb Himpel, Tommy Heskett, David Powell, 8:49.06
High jump — 2. Austin Smith, 6-2; tie-7. Dylan Jacobs, 5-10
Pole vault — 2. Jake Willis, 11-6; 5. Ian McClellan, 10-6; 6. Cody Martin, 10
Long jump — 14. Jared Knipp, 17-10
Triple jump — 12. Tyler Basso, 35-3; 14. Michael Briones, 34-9
Shot put — 13. Stephen Wilson, 37-10; 14. Dallas Jacobs, 37-5; 22. Bryson Hewins, 30-5
Discus — 6. Stephen Wilson, 122-10 ¼; 16. Bryson Hewins, 98-5; 23. Lucas Ahart, 72-3 ¾
Javelin — 5. Reece Hollingsworth, 151-5; 8. Shawn Roberts, 144-1; 11. Dallas Jacobs, 136-3