Caps, gowns to be donned for graduation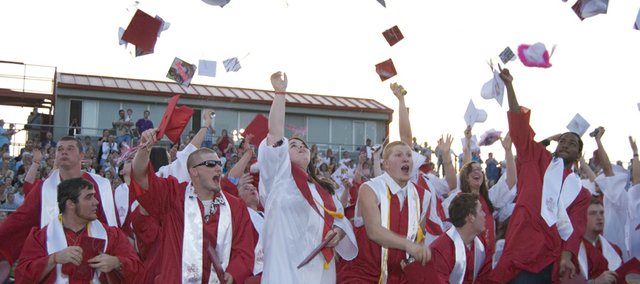 Brent Smith will be praying for no rain on Saturday.
The Tonganoxie High School assistant principal said Monday that in the years he's been at THS, graduation never has been moved inside because of inclement weather.
It will be Smith's ninth commencement ceremony at THS at 7 p.m. Saturday at Beatty Field.
About 115 students are set to walk across the graduation stage this weekend, which Smith noted was the smallest in at least four years.
The ceremony will start with graduates filing into their seats as the Tonganoxie High School band plays "Pomp and Circumstance."
The class president will give the welcome, and the valedictorian will offer a speech.
During the ceremony, students who have maintained 4.0 grade-point averages will be recognized.
The Chieftain Singers will perform a song, as will a senior ensemble. Also during commencement exercises, time will be allotted for any special awards or presentations.
Then, the 115 youths will go from students to alumni with the awarding of diplomas.
Project Grad festivities will follow graduation in Topeka. Seniors, from midnight to 3 a.m. Sunday, will be at West Ridge Lanes and Family Fun Center in Topeka.
Other events are planned leading up to graduation. The scholarship awards night will be 7 p.m. Thursday at the Tonganoxie Performing Arts Center on the Tonganoxie High School campus.
At 2:30 p.m. Saturday, a baccalaureate will take place at TPAC. Steve Howell of Tonganoxie Christian Church will be the featured speaker.
As for graduation, Smith is hoping for clear skies.
"It's always been outside," Smith said. "And the weather report looks good for Saturday."
If the reports are not on target, graduation will be held at the THS gymnasium in the event of inclement weather.
MCLOUTH graduation
At 10 a.m. Saturday at the Stan Braksick Sports Complex, 39 McLouth High School students will receive their diplomas.
During the ceremony, three valedictorians, Jarrod Bechard, Haley Holwick and Lezley Lawson, will be recognized and offer speeches.
Scholarships will be presented to MHS seniors during commencement exercises before diplomas are presented.
The graduates will celebrate their accomplishments with a senior party set for 10 p.m. Saturday at the high school.
On Tuesday, Senior Night was held to honor the Class of 2009's accomplishments. At 7 p.m. today at the McLouth United Methodist Church, a baccalaureate will be held.