Kraft honored as part of banquet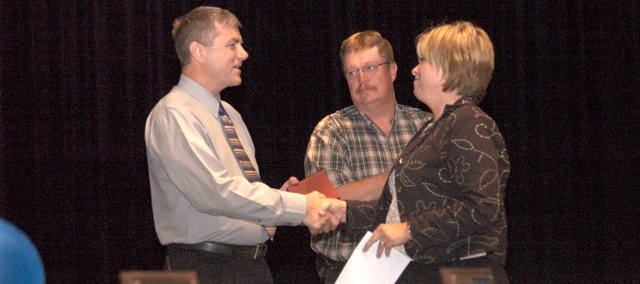 The 28th annual Tonganoxie FFA Chapter banquet was as structured as any FFA meeting.
A meal was served and then an agenda of business and award recognition was followed.
But then the meeting veered slightly from the planned script.
Tonganoxie FFA Alumni president Mike Kissinger and other parents presented Randy Kraft with a gift, a small clock, and recognized him for his many years as a teacher and FFA adviser. Kraft is in his 31st year of teaching.
"Mike, when I told you to write a little something, this is not what I had in mind," Kraft said, referring to a point during the program when Kissinger was set to speak about the alumni. "I hope to be around for a lot more."
Robin Colgrove read excerpts from a handful of letters from former students praising Kraft during the event at the Tonganoxie Performing Arts Center.
When Kraft spoke about the FFA Alumni chapter at THS, Kraft returned the accolades.
"I never experienced an FFA alumni until I came to Tonganoxie," he said.
The program opened with a slide show set to music of activities chapter members participated in during the 2008-09 school year.
Also during the program, guests were introduced, the FFA Creed was recited, Greenhand and Chapter degrees awarded and Proficiency Awards presented.
Seniors bid farewell, giving short speeches about their FFA experiences. The seniors also were given quirky gifts from their younger counterparts.
For instance, Shawn Kesinger was given a tie. When the local FFA members were at a conference, fellow member Hilary Saathoff said Kesinger couldn't be found. They finally discovered he was in the hotel's computer room doing Internet research on how to tie a tie. The story drew a roar of laughter from those in attendance.
Here is a list of various award winners and other recognition:
Chapter Proficiency Awards
• Clinton Kissinger, swine production, entrepreneurship; ag sales and service, placement; forage production, entrepreneurship; and wildlife production and management, placement.
• Hannah Gee, equine, entrepreneurship; equine, placement.
• Jackie Hewins, poultry production, entrepreneurship.
• Tayler Miles, sheep production, entrepreneurship; small animal production and care, entrepreneurship.
• Katelyn Colgrove, forage production, placement.
• Andrew Bouza, sheep production, placement.
• Shawn Kesinger, specialty animal production, entrepreneurship; diversified livestock production, entrepreneurship.
• Richie Ridihalgh, beef production, entrepreneurship.
Chapter Star Farmer
Clinton Kissinger
Chapter Star in placement
Clinton Kissinger
Star Greenhand
Rachel Bieniecki
Greenhand Degree recipients
Rachel Bieniecki, Austin Harkrader, Makayla Leslie, Kristin Rawls, Ryan Theno, Luke Dyleski, Kody Greenland, Gage Liehy, Hunter Lohr, Ashley Page and Shane Starcher.
Chapter Degree recipients
Andrew Bouza, Paige Boylan, Katelyn Colgrove, Sam Denholm, Hannah Gee, Tayler Miles, Tucker Conrad, Nikki Gee, Alex Hauk, Carson Simmons and John Chapman.
State Degree recipients
Hilary Saathoff and Richie Ridihalgh.
National FFA scholarships
Shawn Kesinger and Clint Oeschlaeger, each with $1,000 scholarships from Ford.
Placings
District land judging, seventh; district horse judging, second; dairy judging, third; livestock judging, fifth; Aggie Days agronomy, eighth; Aggie Days horse judging, fifth; public speaking, fifth; state agronomy, sixth. The horse team recently finished fifth and the dairy team ninth at competition at Kansas State University. Tayler Miles and Daniel Holton each placed fourth individually.
2008-09 chapter officers
President, Jackie Hewins; vice president, Clinton Kissinger; secretary, Shawn Kesinger; treasurer, Hilary Saathoff; reporter, Tyler Heckman; sentinel, Richie Ridihalgh; Day at the Farm chair, Nikki Gee; student council representative, Katelyn Colgrove; alumni representative, Andrew Bouza.
2009-10 chapter officers
President, Hilary Saathoff; vice president, Tayler Miles; secretary, Nikki Gee; treasurer, Richie Ridihalgh; reporter, Hannah Gee; sentinel, Andrew Bouza; Day at the Farm chair, Katelyn Colgrove; sweepstakes, Rachel Bieniecki; student council representative, Carson Simmons; alumni representative, Alex Hauk.