THS

splits with Ward in finale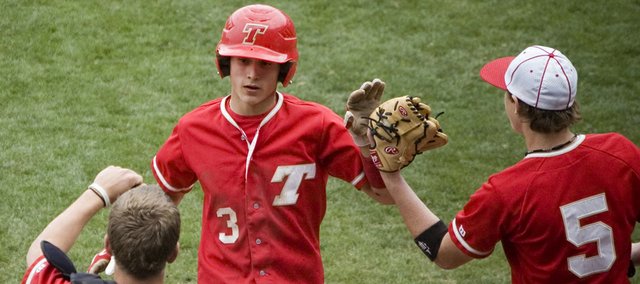 The Tonganoxie High baseball team wrapped up its regular season on Wednesday at Leavenworth County Fairgrounds with a loss and a win.
Concluding a game with Bishop Ward that was suspended on May 7, the Chieftains fell, 7-6, in the 12th inning. Then, THS picked up a victory against Ward in another extra-inning affair, winning 9-8 in the eighth frame.
In the 12-inning contest that started on Thursday in Kansas City, Kan., and ended Wednesday in Tonganoxie, the Chieftains (13-6) had 14 hits to Ward's 13.
Dylan Caywood, Rob Schlicht, Tyler Lupton and Blaize Oelschlaeger all went two for five. Ethan Lorance was two for seven. Jon Harris, Jace Waters, Dylan Puhr and Brandon Yoder had one hit apiece.
Oelschlaeger drove in two runs and Yoder plated one.
THS scored two runs in the top of the seventh to force extras. Tonganoxie looked to have the game in hand when it scored four runs in the ninth, but Ward matched those four in the bottom of the inning before the game was suspended.
The eight-inning Chieftains victory was just as exciting. THS had a 6-4 lead after four innings before Ward scored three in the top of the fifth. Tonganoxie tied the game in the sixth and a scoreless seventh meant more extras.
Ward took an 8-7 lead in the top of the eighth but the Chieftains tied the game when Waters drove in a run in the bottom of the inning. THS won the game when Lorance executed a squeeze bunt that scored Schlicht.
Yoder went three for four in the win and scored three times. Lorance was two for five with two RBI. Waters also was 2-for-5 and drove in a run. Schlicht, Lupton, Puhr and Oelschlaeger each had a hit.
Lorance pitched the final four innings to record the win for Tonganoxie, striking out five batters and walking just one in the process. Waters threw the first four innings.
The postseason begins on Monday for the Chieftains. As the No. 2 seed in their region, which they are hosting, they play No. 7 Perry-Lecompton on Monday at 5 p.m.
PLHS beat Tonganoxie this past Monday, 9-7.