Tonganoxie softball eliminated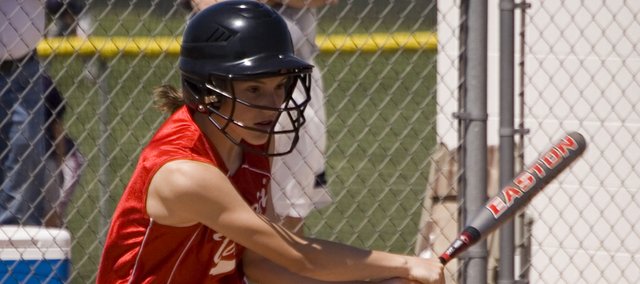 Eudora — The season of the young Tonganoxie High softball team came to an end in the first round of a Class 4A regional on Monday as the Chieftains suffered a narrow 3-2 defeat to Bishop Ward.
With a little more experience, things might have gone the other way for THS (7-12). But with three freshmen in the infield and just two seniors on the diamond, a miscue led to Ward's deciding run.
The game was tied, 2-2, in the bottom of the sixth inning when, after getting the leadoff hitter on base, Ward (10-9) went for a sacrifice bunt. Tonganoxie got the out at first but the lead runner advanced all the way to third because no one was covering the bag. The Cyclones' third run immediately followed with a suicide squeeze.
Chieftains coach Diane Titterington said the late inning pressure might have led to the mental mistake.
"Some of the girls had been in that situation but most of them hadn't," she said.
When a postseason game is tight, Titterington said, there is not time to think things through during a live play — it needs to happen immediately.
"That's a lot of remembering what to do instinctively," she said, noting the regional loss will eventually be a good experience for the young team that loses only two senior contributors — Lauren Himpel and Emily Gripka.
Ward led, 2-0, after two innings but THS tied the game in the top of the fifth.
The Chieftains first got on the board in the fourth, when freshman Brooklyn Kerbaugh led off with a walk. Kaitlyn Woken advanced her to second with a sacrifice bunt and Kerbaugh made a wide turn toward second. She appeared to be in trouble but when she scrambled for third, the BWHS throw got away and Kerbaugh hustled home.
In the fifth, Kailan Kuzmic began the inning with a single to right field. She later advanced to second on a Kerbaugh ground out. After Wolken was hit by a pitch, freshman Makayla Leslie grounded to short. Ward attempted to get the force at second but the ball was dropped and Kuzmic scored to tie the game.
Although both the fourth and fifth were productive for Tonganoxie, leaving five runners on base during that stretch cost the team.
"We just didn't hit well off their pitcher today," Titterington said. "That's why we had to start scrapping to get whatever we could."
Sophomore Tiffany Jacobs went 2-for-3 in the loss. Leslie was 1-for-4, Kerbaugh and Kuzmic finished 1-for-3 and Himpel was 1-for-4 in her THS finale.
"It's sad that I'm not ever going to play with any of these girls again," Himpel said, "and I'm never going to wear this jersey again but my softball career goes on."
Junior Angela Jacobs pitched all six innings for the Chieftains. She struck out three batters. She is just one of many players who will have this tight loss to look back on when next season rolls around.
"They have a lot to look forward to next year," Himpel said.