Six Chieftains win
KVL

titles; regional next on schedule
Photo Gallery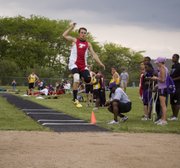 Tonganoxie track at KVL
Tonganoxie High athletes won eight Kaw Valley League events on Wednesday, May 13 at Piper High in Kansas City, Kan. The boys and girls teams finished third in the KVL standings.
Kansas City, Kan. — Most athletes have a routine that helps them prepare for the mental and physical rigors of a track meet.
For Chieftains thrower Roni Grizzle, one of six Tonganoxie High athletes to win a Kaw Valley League title May 13 at Piper High, from now on, that routine likely will include a burrito.
After sweeping the girls throwing titles at the KVL Meet, winning the javelin, shot put and discus to help the THS girls finish third in the team standings, Grizzle said she discovered her good-luck charm — a chicken burrito (with black beans, corn and mild sauce) from Chipotle. That's what she had for lunch before winning three league crowns. It was the same chow on May 1 at Gardner-Edgerton, the only other time this season she won all three events on the same day.
Considering the next meet on the schedule is Tonganoxie's Class 4A regional, you can bet Grizzle already knows what she will eat for lunch on the bus ride to Hiawatha.
"Friday, we leave at noon, so I've got to (get) a burrito before then," she said.
At last year's regional, Grizzle qualified for state in all three throwing events and she hopes to compete for regional titles in all three as a senior.
"I'm looking forward to next Friday," she said, "because it's going to be a big deal."
Boys KVL champs in five events
Tonganoxie junior DJ Lindsay didn't down a burrito before hitting the track but he matched Grizzle's gold-medal count at the league championships. Lindsay won the 400- and 200-meter dashes before teaming with Jeremy Carlisle, David Powell and Bret Koch to cap the night with a 4x400 relay title.
With all that sprinting — he also ran on the 4x100 relay team that finished fourth — Lindsay said it was tough to maintain his high energy.
"You run the 400 and then pretty soon you got the two (hundred) and your butt's still burning," Lindsay said after running the final leg of the 4x400 and catching his breath. "But today, I felt good today. I had some energy today. Usually when I have that schedule, you get tired."
Lindsay said all that sprinting might have caught up with him down the final stretch of the relay championship, but the Chieftains still finished 1.66 seconds ahead of Bonner Springs.
THS sophomore Dylan Scates won his first league title with a personal record of 42 feet, 2 inches in the triple jump.
Scates entered the meet ranked third in the league, but that didn't matter after he out-jumped his runner-up by 11 inches.
"When I came here and found out I was third," Scates said, "I knew I had to step it up."
Every time his name was called to jump, Scates said the adrenaline kicked in, pushing him to a great day after he struggled, scratching out, in the long jump. Those missteps motivated him for the triple jump.
"I hit it every time," Scates said of his mark. "I didn't scratch once."
Once he was done jumping, Scates said he had fun watching his teammates, such as Carlisle, who won a league title in the 800-meter run, succeed. Their efforts led Tonganoxie to a third-place finish in the team standings.
"It's real exciting because this is what we've been working for all year," Scates said.
Tonganoxie roundup
A number of Chieftains came very close to winning KVL crowns as THS finished second in six events.
Behind Grizzle in each of the girls throwing events was a Chieftain. Her younger sister, sophomore Domino Grizzle, finished second in the shot put and discus while fellow senior Chrissie Jeannin was second in the javelin. Domino's second-place throws as well as Jeannin's were all personal records.
The THS girls 4x800 relay team of Megan Puhr, Lauren Hall, Sagan Scates and Cristina Rubio also placed second.
Among Tonganoxie boys, Jake Willis was runner-up in the pole vault despite using a rigid pole that he didn't have much time to break in after it was delivered to THS that day. Austin Smith took second place in the high jump with a leap of 6-2, just two inches away from the KVL champ.
Regional at Hiawatha
On Friday, Tonganoxie will travel to Hiawatha for its state-qualifying, regional meet. Field events begin at 3 p.m. and prelims start at 4 p.m. A top-four finish in an event qualifies an athlete for state.
Last year at the Wamego regional, the THS boys and girls won team titles as they sent 22 athletes to state.
Tonganoxie boys coach Phil Williams said he is looking forward to the 4A competition.
"It's so nice and refreshing not to have to go up against Bonner and Mill Valley and Gardner and some of those 5A schools," Williams said. "We proved last year we can compete with about any 4A school and I think we've got a chance to do well. I certainly hope we can get in the top three if not have a chance for first place again."
Girls coach Chris Weller said the region looks tough with defending state champ Concordia leading the way. But Weller said the THS throwers, as well as the 4x400 and 4x800 relay teams all have a real shot at qualifying — with one condition: "We have to be healthy," he said.
Kaw Valley League Meet
May 13 at Piper High
Girls
Team scores
1. Mill Valley, 205
2. Perry-Lecompton, 83
3. Tonganoxie, 77
4. Piper, 76
5. Santa Fe Trail, 60
6. Lansing, 46
7. Basehor-Linwood, 35
8. Bonner Springs, 11
9. Bishop Ward, 10
10. Turner, 8
Tonganoxie KVL champs
Shot put — 1. Roni Grizzle, 44-3 *new meet record
Discus — 1. Roni Grizzle, 115-9
Javelin — 1. Roni Grizzle, 144
Other THS results
400-meter dash — 4. Cristina Rubio, 1:04.73; 5. Andie Jeannin, 1:04.75
800 meters — 7. Lauren Hall, 2:42.9
4x100 relay — 8. Cristina Rubio, Sagan Scates, Andie Jeannin, Megan Puhr, 55.36
4x400 relay — 4. Andie Jeannin, Lauren Hall, Sagan Scates, Cristina Rubio, 4:25.17
4x800 relay — 2. Megan Puhr, Lauren Hall, Sagan Scates, Cristina Rubio, 10:33.44
Pole vault — 6. Dannie Oelschlaeger, 7
Shot put — 2. Domino Grizzle, 38-8 ½
Discus — 2. Domino Grizzle, 112-4 ½; 7. Danielle Miller, 93-9 ½
Javelin — 2. Chrissie Jeannin, 137-9; 12. Madi Yates, 91-9
Boys
Team scores
1. Mill Valley, 132
2. Bonner Springs, 124
3. Tonganoxie, 88.5
4. Santa Fe Trail, 66.5
5. Piper, 61
6. Lansing, 54
7. Perry-Lecompton
8. Basehor-Linwood, 26
9. Turner, 14
10. Bishop Ward, 4
Tonganoxie KVL champs
200-meter dash — 1. DJ Lindsay, 22.67
400-meter dash — 1. DJ Lindsay, 51.44
800 meters — 1. Jeremy Carlisle, 2:02.93
4x400 relay — 1. Jeremy Carlisle, David Powell, Bret Koch, DJ Lindsay, 3:30.14
Triple jump — 1. Dylan Scates, 42-2
Other THS results
400-meter dash — 15. Tommy Heskett, 56.1
800 meters — 18. Matt Briggs, 2:19.47
1600 meters — 6. Matt Briggs, 4:56.06; 15. Joel Dunning, 5:22.95; 20. Matt Titterington, 5:44.65
3200 meters — 22. Ben Field, 13:08.37
300-meter hurdles — 4. Jamison Bloomer, 44.09
4x100 relay — 4. Bret Koch, David Powell, Jeremy Carlisle, DJ Lindsay, 44.7
4x800 relay — 5. Jeremy Carlisle, Caleb Himpel, Tommy Heskett, David Powell, 8:49.06
High jump — 2. Austin Smith, 6-2; tie-7. Dylan Jacobs, 5-10
Pole vault — 2. Jake Willis, 11-6; 5. Ian McClellan, 10-6; 6. Cody Martin, 10
Long jump — 14. Jared Knipp, 17-10
Triple jump — 12. Tyler Basso, 35-3; 14. Michael Briones, 34-9
Shot put — 13. Stephen Wilson, 37-10; 14. Dallas Jacobs, 37-5; 22. Bryson Hewins, 30-5
Discus — 6. Stephen Wilson, 122-10 ¼; 16. Bryson Hewins, 98-5; 23. Lucas Ahart, 72-3 ¾
Javelin — 5. Reece Hollingsworth, 151-5; 8. Shawn Roberts, 144-1; 11. Dallas Jacobs, 136-3