Locals set to compete at event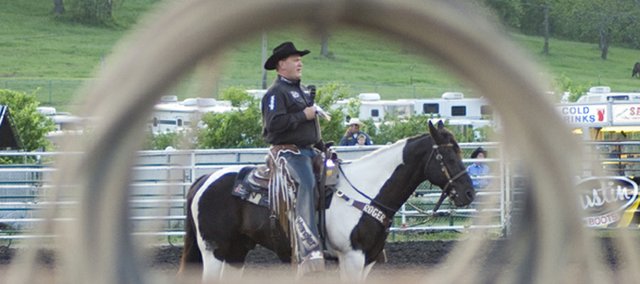 Last year, Spencer Turner competed in more than 80 rodeos.
He already has 25 under his belt this year and eight more coming up in the next two weeks. This weekend Turner will once again try his luck saddling up a bucking bronco and, he hopes, make a few bucks in front of a hometown crowd at the Abdallah Shrine Rodeo.
"It should be a good night," Turner said. "The event has been growing for the past few years that I've been there. The stock is good. It's going to be a pretty good deal."
The Basehor-Linwood High School graduate, who now lives in Marshall, Mo., first started competing in the rodeo in the late '90s. He said when he started he only competed in the Professional Rodeo Cowboys Association circuit before he realized that by joining several different circuits he could compete in many more rodeos while traveling less.
"It just didn't make any sense to drive past a rodeo to go to another when I can hit two of them when they are in the same areas," Turner said.
He said he was always happy to be heading to a competition that was close to his family and that he's not nervous about riding in front of them.
"When they come they can actually see what I do instead of just hear me talking about it all the time," he said. "I kind of look forward to it so my family and friends can actually see why I'm doing this so much."
Although he had just come out of a season full of injuries in 2007, he said 2008 was a good year for him.
"I like bronc riding; it's classy and it's old-school cowboy," he said. "It's the cornerstone of the rodeo."
He added that it also is something that he can continue to do later in life.
"I'm not old, but I'm no spring chicken," he said. "It's an event guys are still making a ton of money in their 40s."
Monday afternoon Turner found out which horse he will be riding Saturday.
"A couple of guys have been on this horse and they said he can be good or be really bad," he said "It's a 50-50 chance, but I always try to stay positive. I'll go right ahead and get on him and I'll try him out. "
In 2008 the Shriners gave out more than $30,000 in prize money to the rodeo riders competing in the PRCA.
Other local rodeo riders will be competing at the Shrine Rodeo.
Bareback rider Justin Williams from De Soto will be competing Friday. Travis and Angela McGraw from Tonganoxie will also be competing. Travis will be team roping on Saturday and Angela will have her race on Friday.
Rodeo competitions will begin at 7:30 p.m. Thursday, Friday and Saturday.
Besides the rodeo, the Shriners also are sponsoring a carnival, a craft show and an antique car show that will run from noon to 4 p.m. Saturday.
Tickets are $10 for adults and children under 12 years get in free.
Tickets can be purchased and more information can be found on the rodeo's Web site at shrinerodeo.com.
And look for updates and photos from the rodeo later this week online at tonganoxiemirror.com.