Moms and Grads
McLouth teachers earn master's degrees same time as sons graduate from
MHS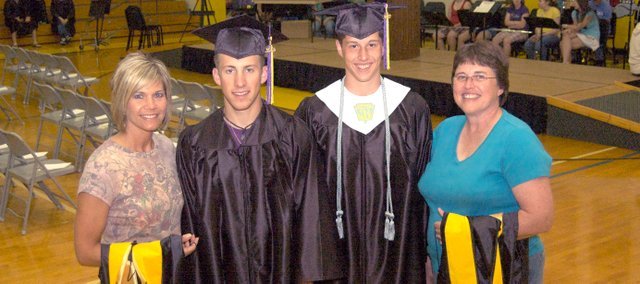 Vicki Bechard and Janna Terry didn't dine on the typical college student staple of ramen noodles when they were attending college nearly a year ago at Emporia State University.
It was summer, Terry jokingly pointed out, and the best friends instead had plenty of $5 footlongs at Subway — half for lunch and half for the evening meal.
The McLouth residents weren't fresh out of high school when they were taking on-campus courses — but their sons soon will be.
Bechard and Terry are teachers in the McLouth School District and together just finished a two-year journey in earning identical master's degrees in academic administration.
Their sons, Jarrod Bechard and Skyler Terry, meanwhile, received their diplomas Saturday from McLouth High School.
That posed a slight problem — Emporia State's commencement exercises were Saturday as well.
"You know they're going to have graduation the same time we do," Vicki said last week, recalling an earlier conversation with Janna. "Being the nice mothers that we are, we said 'all right, we'll watch your graduation.'"
Of course Vicki was joking. She wouldn't miss her son's graduation for the world.
So, in an effort to recognize both graduations, Skyler and Jarrod and the rest of their families joined Vicki and Janna for a Phi Kappa Phi induction on Friday in Emporia. Phi Kappa Phi is an academic honor society.
"That's going to be our quote unquote graduation," Vicki said last week.
Sharing the spotlight
Jarrod joked that he's not had a graduation weekend to himself.
"It's kind of funny because I've never had a graduation by myself," he said. "When I had eighth grade promotion, my sister graduated from college, so I've always shared the spotlight. But it's pretty cool that they got their masters."
Like his mother, and sister, Kristen, for his undergraduate studies, Jarrod will attend Kansas State University, where he'll major in biochemistry.
Best pal Skyler, whom Jarrod has known since preschool, said he was impressed with his mother reaching her goal of earning a master's degree.
"I'm just kind of proud of her," he said. "It's different. We're sharing the graduation, like Jarrod said.
"I'm glad she's doing it and did it, so, go Emporia State."
Skyler, who plans to either attend Kansas City Kansas Community College and major in fire science or join the military, admitted senioritis has been setting in for the past month, but looks to his mother's accomplishment for inspiration.
"I keep in the back of my head — you should go as far as you can go," he said. "It will help you in the long run."
Jarrod mentioned a term paper he wasn't especially looking forward to during the final stretch of his high school career. And then his mother reminded him she had term papers to write as well.
"You kind of go through the same things, you know?" Jarrod said.
Celebration time
On Saturday, Jarrod and Skyler were part of a larger group of classmates having a reception at the McLouth Threshing Bee Grounds.
At one of the tables, Vicki and Janna will had a graduation cake for their accomplishments.
Janna said she was overwhelmed by the amount of work required to complete the degree.
"Now I have nothing to do," Janna said. "My son's about to graduate. I'm out of things to do. I don't know how to behave because in some ways it's two years of going 100 miles per hour."
By the same token, Janna said she was ready to enjoy the summer.