Plenty of Pomp
Circumstance moves
MHS

ceremony inside,

THS

stays outside for commencement as grads start new chapter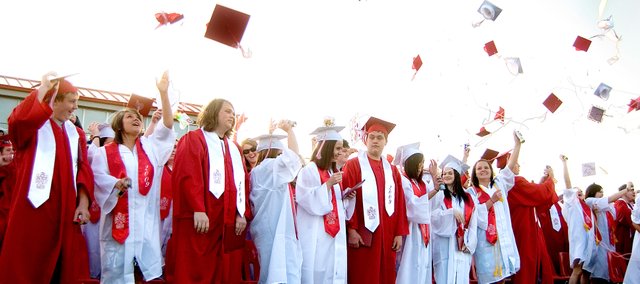 Photo Gallery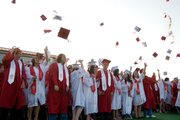 THS Class of 2009
On Saturday evening, 115 seniors graduated from Tonganoxie High School.
Many Tonganoxie High School seniors seized one last opportunity to get their 2 cents in at Saturday's commencement exercises.
It has been customary in recent years to hand the principal random objects while walking up to receive diplomas — one year students handed the principal spoons — this year's gag involved money.
Many students handed THS principal Jamie Carlisle pennies to tell him they were giving him their 2 cents worth.
In total, the students handed Carlisle 370 pennies, four $1 bills and $3.45 in other currency.
Asked what he would do with the money, Carlisle said he was thinking about arranging it on a wall in the Chieftain Room at THS in the form of "Class of 2009."
"This is from the kids, so naturally it's going to be in the student union," he said.
Seniors gave Carlisle more than $11 in change, but received far more in outside scholarship money.
Assistant principal Brent Smith announced that THS graduates received $501,000 in outside money from colleges and employers to be used the next four years. In addition, 52 students received local scholarships.
Class president Rachel Krivjansky gave the welcome, while salutatorians Emily Gripka and Kevin Hamm were later recognized.
Valedictorian Chelsea Calovich recalled attending school the last 13 years. She joked about classmates becoming friends in elementary school.
"I'll be your best friend if you share your cookie," she said.
Then it was on to junior high and the students' first dance and the tendency for boys and girls to huddle in groups, leaving the dance floor empty as students were slow to ask another to dance.
Next, it was on to high school and the many hardships. But the seniors still had fun, she noted, recently playing a prank in which they put furniture and other items in their parking spots.
"Underclassmen didn't need to park in our spots," Calovich jokingly said.
Carlisle then spoke, reminding the class of 2009 that an education isn't only about what is learned in books, but also pulling together for a common cause and knowing "it's all right to care."
Carlisle presented Lance Stone, father of senior Austin Stone, with a diploma for his son. A dental procedure that went awry left Austin in a comatose state after the visit in late March in Lawrence. He since has been moved from Kansas University Hospital to a rehabilitation center, according to a Web site that family members update.
Photo Gallery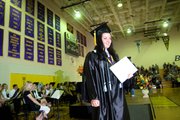 MHS Class of 2009
On Saturday morning, 39 seniors graduated from McLouth High School.
Carlisle presented Lance with the diploma and then said Lance would be giving the diploma back.
"It will be in the vault (in the THS office) until such time as Austin is ready to come get it," he said.
The senior class presented Lance with money to help pay for expenses, while the Tonganoxie FFA Chapter, of which Austin was a member, presented him with funds as well, including gasoline cards.
The program then moved to the presentation of diplomas.
On a slightly cool late spring evening, 115 THS seniors walked across the graduation stage at Beatty Field and received their diplomas.
When the entire class officially became graduates, the traditional spraying of aerosol string ensued.
The class then took part in Project Graduation festivities later in the evening in Topeka.
McLouth graduation inside
Although the conditions were a little damp on the outside, the mood inside the McLouth High School gymnasium was quite the opposite. MHS normally holds commencement exercises at Stan Braksick Sports Complex, but because of the recent rain, it was moved inside.
On Saturday morning, the McLouth School District graduated 39 students.
Jean Rush, superintendent for McLouth, said the graduation ceremony is a time when the faculty and staff share similar feelings with the parents of each student because they invest a lot of time and effort to make sure the kids succeed.
"This event is as hard on us as it is on them," Rush said.
Before each student was called to receive his or her diploma, valedictorians Jarrod Bechard, Haley Holwick and Lezley Lawson offered their thoughts to the graduating class and the faculty announced the recipients of the more than $180,000 in scholarships awarded to this year's class.
Although the ceremony and academic school year was finished, Lawson still had a few loose ends to tie up with the 2009 softball season.
She said it wasn't going to feel like she graduated until the season was over, but she was happy about Saturday's ceremony.
"I was really nervous this morning about it all but it feels really good to experience this great accomplishment," she said.