Splish Splash
Tonganoxie Water Park set to open Saturday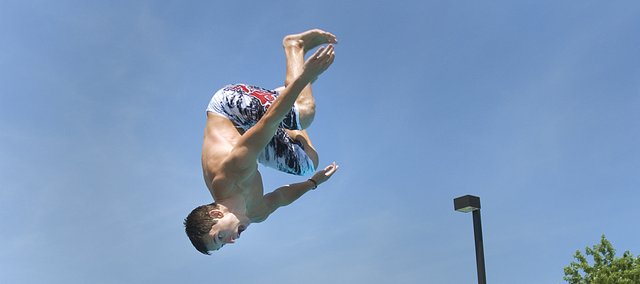 Darren Shupe, Tonganoxie Water Park manager, prepares for Saturday's 1 p.m. pool opening.
Q: What do you and your staff think about the new pool season?
A: Being open for half a season last year was a good trial run to let us know how things are going to work in the facility with personnel, the placement of the lifeguards and getting to know the facility. Now that we have that under our belt, I think we are going to be well-prepared like we were last year and we'll know what to expect in our facility.
Q: Are you and your staff going to be ready for Saturday's opening?
A: Most definitely. We had training this week to prepare for the opening on Saturday. With the staff from last season, and with the new staff we are training, we are going to be ready to start on Saturday … weather permitting. With the cooler water we may have more sunbathers than swimmers, but the people who are already ready for summer to get going are going to get in the water and have fun.
Q: How has your planning changed now that you will be open for a full season?
A: Last year there was a lot of planning before we opened the facility like what kind of furniture we were going to put in and what kind of system we needed to keep track of patrons coming to our facility … all of the items that you have to have to run a place we pretty much had to start from scratch. The biggest difference from last summer to this summer is that we didn't have to make those big purchases for our facility so all of that planning is already done. We've also been spending a lot of time working with staff and getting them oriented on how the facility works.
Q: How much interest have you received for pool passes and classes?
A: We had our first sign up for swim classes on Sunday evening and I think there were 100 kids who signed up. We will continue to have swim lesson sign ups for the season. Season passes are selling well. We will be at the facility Friday night from 6-8 p.m. for people to come in and pay for their passes early so they don't have to wait in line. I think the season passes are a real bargain for the community.
Q: What, if anything, has changed this year rules, programs etc.?
A: We will be starting a swim team that will be competing with kids from surrounding towns. That will be something new that will happen this summer. We did change the water aerobics from Tuesdays and Thursdays to Mondays and Thursdays. And we will be offering more pool rentals. One thing we are going to really focus on is gum. Anytime you have gum in the water it doesn't do well in our filtration system. It's also not nice when you happen to step on it or run into it in the water. We are going to enforce it to try to keep that out of the facility.