THS

throwers, runners, jumpers state-bound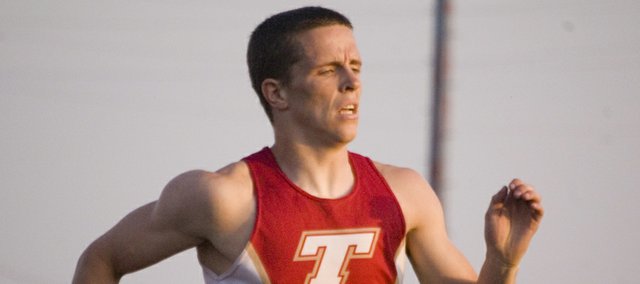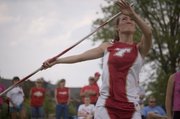 Hiawatha — Tonganoxie High track athletes qualified for state in 10 events on Friday at Hiawatha.
Ten different Chieftains were a part of those state-qualifying efforts and two of them — Roni Grizzle and DJ Lindsay — won an individual regional title. Grizzle finished first in the shot put and Lindsay won the 200-meter dash.
Grizzle also qualified for state with third-place finishes in the discus and javelin. Although no runners from Tonganoxie's girls team made it, Grizzle will be joined at Wichita next weekend by her younger sister Domino, who finished fourth in the discus, and fellow senior Chrissie Jeannin, who was fourth in the javelin.
Lindsay didn't just qualify for state in the 200, he also made it in two relay races. The junior ran with Bret Koch, Jake Willis and Jeremy Carlisle to finish fourth in the 4x100 relay, setting a school record of 43.68.
The 4x400 team also qualified for state with a third-place finish as Lindsay anchored the team of Carlisle, Tommy Heskett and Koch.
Carlisle qualified as an individual as well with a third-place finish in the 800-meter run.
In field events, Austin Smith is headed to state in the high jump after finishing third, Dylan Scates took fourth place to qualify and Willis pole vaulted 13 feet for a second-place finish and a trip to Wichita.
Girls
Tonganoxie state qualifiers
Shot put — 1. Roni Grizzle, 43-1 ½
Discus — 3. Roni Grizzle, 116-2; 4. Domino Grizzle, 112-10
Javelin — 3. Roni Grizzle, 139-10; 4. Chrissie Jeannin, 134-5
Other THS results
400-meter dash — 5. Cristina Rubio, 1:02.21
4x400 relay — 5. Andie Jeannin, Megan Puhr, Sagan Scates, Cristina Rubio, 4:20.34
4x800 relay — 6. Megan Puhr, Lauren Hall, Sagan Scates, Cristina Rubio, 10:33.9
Shot put — 5. Domino Grizzle, 36-11 ¾
Boys
Tonganoxie state qualifiers
4x100 relay — 4. Bret Koch, Jake Willis, Jeremy Carlisle, DJ Lindsay, 43.68
800 meters — 3. Jeremy Carlisle, 2:04.08
200-meter dash — 1. DJ Lindsay, 22.71
4x400 relay — 3. Jeremy Carlisle, Tommy Heskett, Bret Koch, DJ Lindsay, 3:31.4
High jump — 3. Austin Smith, 6-2
Triple jump — 4. Dylan Scates, 42-1
Pole vault — 2. Jake Willis, 13
Other THS results
4x800 relay — 7. Caleb Himpel, Matt Briggs, Joel Dunning, Tommy Heskett, 9:01.65
100-meter dash — 7. DJ Lindsay, 11.28
300-meter hurdles — 13. Jamison Bloomer, 46.34
Discus — 7. Stephen Wilson, 119-9; 14 Bryson Hewins, 105-2
High jump — 7. Dylan Jacobs, 5-8
Javelin — 7. Reece Hollingsworth, 142-6
Triple jump — 13. Michael Briones, 35-9
Pole vault — 8. Ian McClellan, 10-6