Chieftains vault to state
Track athletes qualify in 10 events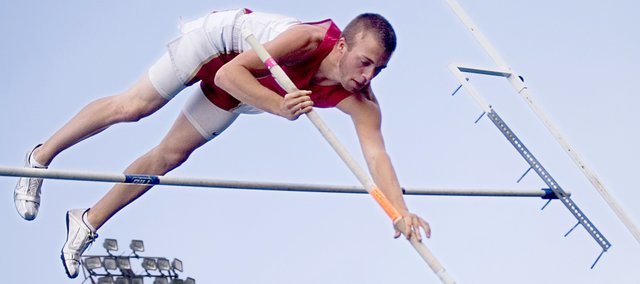 Photo Gallery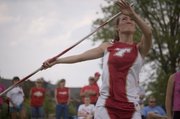 Tonganoxie athletes qualify for state
Tonganoxie High track athletes qualified for state in 10 events on Friday at Hiawatha. Ten different Chieftains were a part of those state-qualifying efforts and two of them — Roni Grizzle and DJ Lindsay — won an individual regional title. Grizzle finished first in the shot put and Lindsay won the 200-meter dash.
Hiawatha — Jake Willis arrived at Tonganoxie High's Class 4A regional track meet on Friday hoping to set a new school record in the pole vault.
The Chieftains sophomore helped break a THS record at Hiawatha. Surprisingly, it came in another event.
Throughout this season, Willis has competed exclusively in the pole vault. But when Tonganoxie senior relay runner David Powell was unavailable for regional competition (he was traveling to Albany, N.Y. with other THS students for the National Catholic Forensics League tournament), the coaches put Willis in his place for the 4x100 relay race.
In practices leading up to the regional, the newbie worked with sophomore Jeremy Carlisle and juniors Bret Koch and DJ Lindsay, running the second leg of the race. Carlisle was impressed not only with Willis' speed but also the crispness of his handoffs.
"You run with us like you do in practice, and we're going to break the school record in the 4x1," Carlisle told him.
That was exactly what happened on Friday. The team qualified for state by finishing fourth with a time of 43.68 — not only 0.9 seconds faster than any time THS had posted this year but also good enough to beat the old school record of 44.1.
"Who would have guessed that our first time ever running in a meet with Willis," Carlisle said, "we'd break the school record by half a second? It's an awesome feeling."
Although Willis wasn't able to record a vault of 13 feet, 6 inches — the height he needed to become the new THS record holder — he did match his personal record of 13 feet, which placed him second at the regional and qualified him for state.
"One more week of practice and hopefully I'll get it at state," Willis said of the vault record.
He cleared the bar with such ease on some of his early attempts, it appeared Willis would easily clear the 13-6 mark. But once the bar was raised to that spot, he was just short.
"I just didn't get vertical enough," he said.
Tonganoxie senior Austin Smith also spent plenty of time in the air at Hiawatha. He finished second in the high jump with a 6-2 hop and earned a trip to state after the same mark didn't qualify him last year.
While talking with The Mirror, jumps coach Chris Weller jokingly reminded Smith to credit his coach for the state berth.
"He's actually a really good coach," Smith said. "He's funny, too — you get the best of both worlds."
Girls throwers state-bound
As the THS girls coach, Weller will only see a handful of his Tonganoxie girls competing at state Friday and Saturday in Wichita.
The Chieftains didn't qualify any runners but the season will continue for three THS throwers. Senior Roni Grizzle won a regional title in the shot put and finished third in the discus and javelin events.
Domino Grizzle, Roni's sophomore sister, finished fourth in the discus to qualify for state and senior Chrissie Jeannin clinched a berth with a fourth-place finish in the javelin.
Tonganoxie girls were close to qualifying in other events. Cristina Rubio ran the 400-meter dash in 1:02, her best time of the year, but finished fifth.
As anchor of the 4x400 team, Rubio came close in that race as well. She ran with Andie Jeannin, Megan Puhr and Sagan Scates to a fifth-place finish.
Domino Grizzle almost qualified for multiple events but a fifth-place finish in the shot put was a few feet shy.
Boys qualify in seven events
The boys 4x100 team, as well as Willis and Smith, will be joined at state by teammates in four other events.
Junior DJ Lindsay not only won a regional title in the 200-meter dash and anchored the 4x100 relay team but also teamed with Carlisle, Tommy Heskett and Koch to land the 4x400 relay team in third place.
Carlisle also finished third in the 800-meter run and sophomore Dylan Scates earned his first trip to state with a fourth-place finish in the triple jump.
Hiawatha regional results
Girls
Team scores: 1. Concordia, 156; 2. Sumner Academy, 66; 3. Wamego, 55; 4. Clay Center, 54; 5. Piper, 52; 6. Tonganoxie, 37; 7. Holton, 29; tie-8. Jeff West, 25; tie-8. Perry-Lecompton, 25; 10. St. James Academy, 22; 11. Topeka-Hayden, 17; 12. Basehor-Linwood, 7; 13. Royal Valley, 6; 14. Hiawatha, 5; 15. Bishop Ward, 2
Tonganoxie state qualifiers
Shot put — 1. Roni Grizzle, 43-1 1/2
Discus — 3. Roni Grizzle, 116-2; 4. Domino Grizzle, 112-10
Javelin — 3. Roni Grizzle, 139-10; 4. Chrissie Jeannin, 134-5
Other THS results
400-meter dash — 5. Cristina Rubio, 1:02.21
4x400 relay — 5. Andie Jeannin, Megan Puhr, Sagan Scates, Cristina Rubio, 4:20.34
4x800 relay — 6. Megan Puhr, Lauren Hall, Sagan Scates, Cristina Rubio, 10:33.9
Shot put — 5. Domino Grizzle, 36-11 3/4
Boys
Team scores: 1. Royal Valley, 70; 2. Wamego, 64; 3. Concordia, 57; 4. Hiawatha, 56; 5. Atchison, 47; 6. Tonganoxie, 46; 7. Piper, 35; tie-8. Holton, 32; tie-8. Clay Center, 32; tie-8. St. James Academy, 32; 11. Perry-Lecompton, 28.5; 12. Sumner Academy, 18; 13. Jeff West, 17; 14. Basehor-Linwood, 12.5; 15. Bishop Ward, 7; 16. Topeka-Hayden, 4
Tonganoxie state qualifiers
4x100 relay — 4. Bret Koch, Jake Willis, Jeremy Carlisle, DJ Lindsay, 43.68
800 meters — 3. Jeremy Carlisle, 2:04.08
200-meter dash — 1. DJ Lindsay, 22.71
4x400 relay — 3. Jeremy Carlisle, Tommy Heskett, Bret Koch, DJ Lindsay, 3:31.4
High jump — 3. Austin Smith, 6-2
Triple jump — 4. Dylan Scates, 42-1
Pole vault — 2. Jake Willis, 13
Other THS results
4x800 relay — 7. Caleb Himpel, Matt Briggs, Joel Dunning, Tommy Heskett, 9:01.65
100-meter dash — 7. DJ Lindsay, 11.28
300-meter hurdles — 13. Jamison Bloomer, 46.34
Discus — 7. Stephen Wilson, 119-9; 14. Bryson Hewins, 105-2
High jump — 7. Dylan Jacobs, 5-8
Javelin — 7. Reece Hollingsworth, 142-6
Triple jump — 13. Michael Briones, 35-9
Pole vault — 8. Ian McClellan, 10-6