Relay team recovers to finish 3rd at regional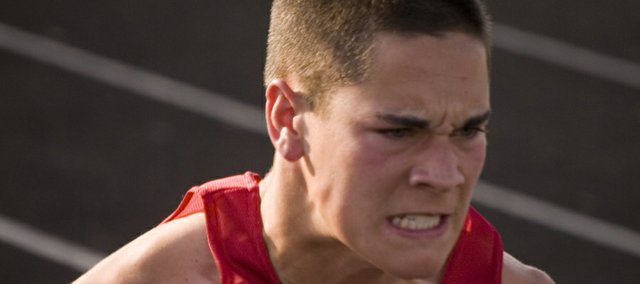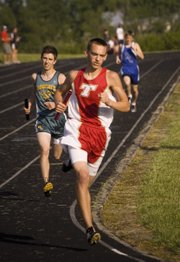 Hiawatha — Jeremy Carlisle struggled to stand up straight.
The Tonganoxie High sophomore had already competed Friday in the 4x100 relay, the 400-meter dash and the 800-meter run at the Hiawatha Class 4A regional track meet.
His body, it appeared, was done for the night.
That didn't sit well with Carlisle, who had other intentions — namely, helping THS qualify for state in the 4x400.
As the girls and, later, boys 3,200-meter races lapped the track, Carlisle walked slowly up and down the infield with his father, Jamie, often stopping to bend over. Every time he stood up, his head rocked and he had to kneel back down to feel normal.
"It's just pushing your body to its limits and it responds in a way that doesn't feel good," Carlisle said later, revealing Friday was the first time this season he ran the open 800 and 400 races on the same day.
The THS sophomore lost the contents of his stomach after both those races. In the minutes leading up to the marquee, night-capping race, he tried to replenish his system with crackers and fluids.
Carlisle looked as though he had no business running in the 4x400 relay.
Then, Tonganoxie assistant superintendent Kyle Hayden approached Carlisle with his cell phone. Hayden told him there was someone on the phone who wanted to speak with him.
It was Hayden's son, Gage, a 5-year-old with whom Carlisle has spent a lot of time — "He's one of my best friends, I love that kid," he said.
All Gage had to say was: "I want you to win."
"That was kind of the point where I decided I'm running this race," Carlisle said. "I don't care how bad my head hurts."
Run he did. It wasn't pretty, but by the time the race was finished, Tonganoxie was right where it needed to be, with a state berth in the 4x400.
As the relay team's lead runner, Carlisle started the first lap.
He didn't look like himself. Down the final stretch, he was running in wet cement instead of sprinting to his teammate with fire in his eyes.
When he reached the end of his leg, the Chieftains were lagging. Tommy Heskett, who is a staple of the THS 4x800 team and served as alternate for absent David Powell, took the baton in fifth place. Unaccustomed to running the shorter relay, he still ran as fast as he could. But when he reached Bret Koch for the handoff, the Chieftains were in eighth place — last.
Tonganoxie's state hopes appeared to be over. Just more than a week earlier the runners (with Powell) had won a league title and talked about competing for a state championship to honor their teammate Austin Stone, who has been unable to compete this year after falling into a comatose state on March 30.
As Koch took off, his teammate Stone raced with him in the front of his mind.
"We told ourselves we were gonna run every race for him and we had to do it," Koch said. "We weren't in a position to qualify for state."
Then Koch passed one runner. And another. And another.
The Chieftains were in fifth when Koch handed the baton to DJ Lindsay.
Watching at midfield, that's when Carlisle knew they had a shot.
"Once you get DJ the baton, that freak of nature's gonna pass everybody," he said.
Lindsay nearly did. He blazed around the track, passing two opponents. He finished his leg in 48.8 seconds — a time that would be close to a state meet record in the open 400 — to get THS a third-place medal and a trip to Wichita.
"He ran the best race that he'd ran so far this year," Koch said.
At the end of the night, exhausted, Carlisle was glad his friend gave him that phone call.
"I just went out and gave it my all. My all wasn't that great but it got the job done," Carlisle said. "We're going to state now."