Title game loss shocks Tonganoxie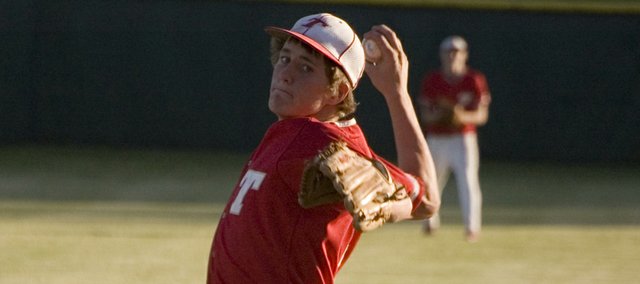 Photo Gallery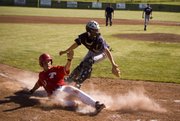 THS baseball season ends in regional final
The Tonganoxie High baseball team hosted its regional tournament on May 19. After defeating Eudora, 4-1, in an afternoon semifinal at Leavenworth County Fairgrounds, the Chieftains lost a heartbreaker in their regional final, falling, 2-1, to Ottawa in nine innings.
After listening to their coach in left field and receiving a standing ovation from their supporters in the bleachers, all a number of Tonganoxie High baseball players could do was retreat to the dugout and hang their heads.
Their season had just ended.
In extra innings.
In a regional final.
The scoreboard read: Ottawa 2, Tonganoxie 1.
In the quiet of the evening on May 19, those Chieftains with heads slumped were heartbroken, thinking of what might have been.
"It was the worst feeling ever," said THS senior pitcher Jace Waters. "We had them beat and then we just couldn't quite pull through."
Fellow senior Rob Schlicht said that post-game time in the home dugout at the Leavenworth County Fairgrounds was the low point of an otherwise exciting day.
"I was just pretty much in shock and I think everyone else was," Schlicht said.
Even though the game went nine innings, Schlicht added, none of the players expected to lose.
How could they? The way Waters was throwing whipped up confidence. The senior right-hander hurled every pitch for Tonganoxie and before his night ended in the bottom of the ninth, he struck out 14 batters and allowed only three Ottawa hits.
Waters said it was his job to put the Chieftains on his back as they tried to obtain a state tournament berth for the first time since 1992.
"I just did everything I could while I was pitching," he said. "I knew I had the defense behind me so I was just kind of throwing and I was amped up."
Schlicht said the rest of the Chieftains could see Waters had homed in on something special.
"We all knew he could be that good but we were all really impressed," Schlicht said, "and we were all really happy that he was on top of his game."
Showing his natural leadership, Waters praised his teammates for doing their best as well in the final.
"A few little things just got those two runs in and we lost by one," he said.
THS (15-7) had seven hits — four more than OHS — but never got multiple hits in the same inning. Senior Blaize Oelschlaeger scored the team's only run in the third inning on a sacrifice fly from Waters.
Schlicht, who went 2-for-3 in his final game, said pitching seems to improve in the postseason, making run production hard to come by.
"It was the playoffs and all the pitchers are pretty amped up and throwing pretty hard," Schlicht said, "making sure they're hitting their spots and all the teams' best pitchers are pitching."
Tonganoxie coach Phil Loomis said the season-ending loss stung but he was proud of the players' efforts. He credited the team's seniors, who lost 6-2 to Topeka-Hayden in a 2008 regional final, for coming back stronger and in better condition for the 2009 campaign. Loomis said they also made sure the underclassmen followed suit.
"This was a total effort that came from the senior leadership and the followers," Loomis said.
After talking about a trip to state all season long, Loomis knew his players were disappointed after the game. The coach felt for his players and thought the loss might eventually be helpful.
"I hope that this makes them better players," Loomis said, "and hopefully that will be the case."
Some truth could already be found in those words when Waters summarized the narrow, extra-innings loss in the regional championship game.
"The way we went out was the best way to go out," he said, "even though we didn't want it to end like that."