5 Questions: Top of the Class
Valedictorian reflects on past, looks ahead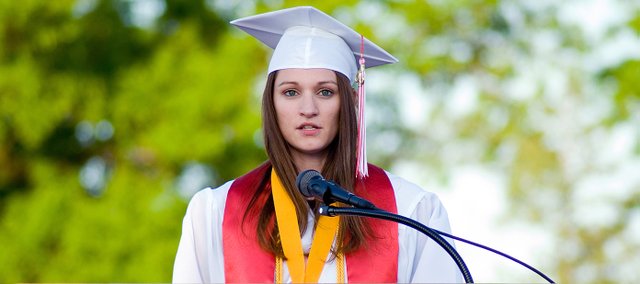 Q: Has it sunk in that your time at Tonganoxie High School is finished and you're now officially a graduate?
A: Sometimes it has sunk in that I have graduated, especially when I am doing activities relating to getting ready for college. Then there are other times when it doesn't feel like I have graduated — that it is just another year and that I will be going back to Tonganoxie next fall even though I am not.
Q: What was the best part about attending school at THS, as well as the most challenging?
A: The best part about attending THS was the school atmosphere. All the teachers and staff made you feel like they wanted to be there to really help you learn and that they wanted you to succeed. The most challenging part would have to be leaving. I have been around the majority of my peers since kindergarten and now we are all going our separate ways. It will be hard not getting to see everyone everyday.
Q: What are your plans now that high school is finished and what do you plan to do as a career?
A: My plans are to attend Emporia State University in the fall and study pre-pharmacy. My goal for a career is to become a pharmacist.
Q: Do you have any concerns for the future, such as the tough economy that we're now experiencing?
A: I am concerned a little. I am just hoping that everything works itself out after a while.
Q: What do you hope to have accomplished by the time you return for your 10-year reunion in 2019?
A: I hope to have all of my schooling finished. I have quite a few years ahead of me. Also having a great paying job would be a big plus.