Bed and breakfast sells online
Historic property goes for nearly $150,000 as 55 bids are placed at Internet site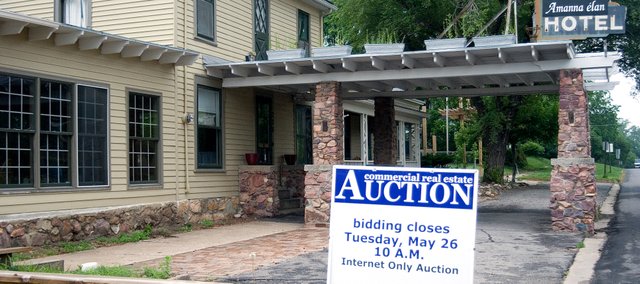 A historic Tonganoxie venue that once was a bus stop appears to have a new owner.
The locale is said to have inspired Kansas playwright William Inge's "Bus Stop," which was made into a movie starring Marilyn Monroe in 1956. Dating back to the late 1800s, the northwest corner of Third and Main operated as the Myers Hotel, then the Almeda Hotel and most recently, the Amanna elan Hotel.
Along with its lodging amenities, the property also has been home to a diner and a beauty shop since its early days as a bus stop.
On Tuesday, the historic property sold during an online auction.
Purple Wave, an online auction service out of Manhattan, held the auction. A total of 55 bids were placed online starting with $10 on April 17 and ending Tuesday with a winning bid of $149,600.
Steve Sommers, auction realtor with Purple Wave, said the closing window for the property is forthcoming.
"It will have new ownership in 30 days," he said.
The last owners to operate the landmark were Darlyn and Anna Hansen, who purchased the property in April 2002 for $130,000.
The Hansens renovated the property and operated it as a bed and breakfast and a reception hall.
Darlyn Hansen said Monday various factors played into he and his wife opting to get out of the business.
He said other options for receptions, such as the VFW Hall's expansion and a reception room at Bichelmeyer's Steakhouse, have been made available in Tonganoxie since they purchased the property seven years ago.
"Those are just smart moves with the existing places," Hansen said.
But Hansen said he needed more income from the reception area "to make it work."
"The bed and breakfast alone would not work with our debt structure," he said.
Hansen also is self-employed selling microfilm equipment to banks, but it's not the scope that it once was because digital imaging equipment, he said, "has taken over the lion's share of what I used to do."
That also played into the couple's decision.
Revenue for the lodging side of the Amanna elan was up considerably in the last year and a half, Hansen said, but it still wasn't enough to cover expenses with reception revenue being down.
First State Bank and Trust in Tonganoxie recently took ownership of the property and worked with Purple Wave to auction off the lot.
Another online auction, this time for the contents of the business, will be held Thursday.
Bank officials couldn't be reached for comment Tuesday. Purple Wave did not release information about the winning bidder.