Post leader handing duties over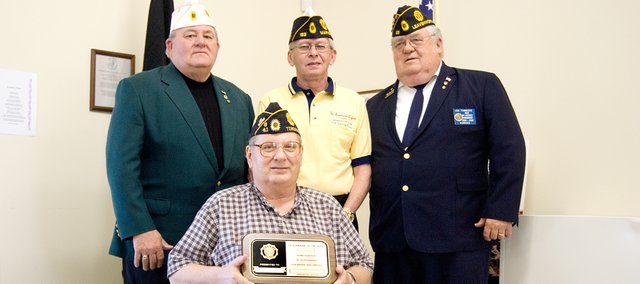 When Jim Rogers first took command of Tonganoxie's American Legion Post 41 in 2002, he had a vision of taking the existing 14-member post and expanding it to fulfill the duties of the American Legion.
Seven years and 77 members later, Rogers said it was time for someone else to assume duties as commander and let his fellow legionnaires move the post into the future.
"I thank you for letting me be commander for the last seven years and hope that with the new post command you'll still work together because that is the only way you are going to keep this unit together," Rogers said before handing the command over to Charles "Buck" Smith.
During their monthly meeting on May 20, active members of Post 41 along with Jim Timmons, past first district commander for the American Legion Department of Kansas, Rick Edwards, current first district commander for the ALDK, and Dave Thomas, commander of the ALDK, paid tribute to Rogers. The state and district leaders honored Rogers by making him the first district's first ever legionnaire of the year for his hard work and dedication to the American Legion and to his post. The first district is made up of 55 posts in northeast Kansas.
Timmons also gave Rogers a certificate of appreciation for the work that he has done in Tonganoxie.
While presenting it to Rogers, Timmons said the certificate was for "continuous dedication, loyalty and self sacrifice for assuming the duties of post commander. He has increased membership more than 700 percent, instituted Americanism in the elementary school and provided help, comfort, support and supplies to needy children and enhanced the reputation of American Legion programs in your community. Thank you for your distinguished service."
In the past, Post 41 has collected stuffed animals to donate to sick children in hospitals and collected more than a quarter ton of non-perishable food to give to charities for the Thanksgiving and Christmas season.
Bill Ridihalgh, Post 41 member, told Rogers that he appreciated all of the work he has done for the post and for all that Rogers has done for him and said he would be there if Rogers ever needed anything.
"You've always been there for me emotionally, physically and spiritually," Ridihalgh said. "I wouldn't be where I am in the American Legion if it hadn't been for your hand, your guidance and your experience. You've brought me a long way in seven years."
The legionnaires also thanked Rogers' wife, Mary, for the work she has done to help Rogers and the post. Smith said behind every great man was a greater woman. Rogers has been in a wheelchair since he was 22, when he stepped on a landmine during the Vietnam War.