Grizzle 2nd in state shot put
Three Chieftains medal on Friday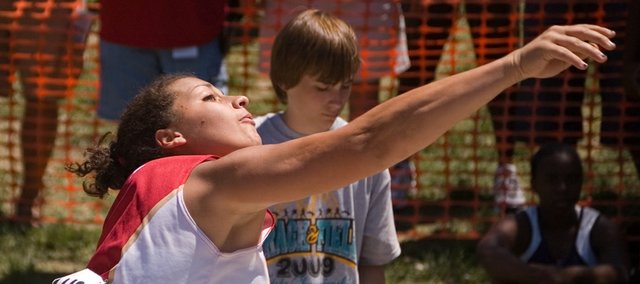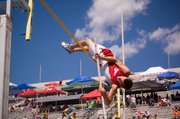 Wichita — For the second year in a row, Tonganoxie High thrower Roni Grizzle found herself standing at the No. 2 podium next to Ottawa's Kearsten Peoples when shot put medals were handed out Friday at Cessna Stadium.
"She's so good she makes me better," Grizzle, a THS senior, said of Peoples. "Most of the time my game plan is to come in and win and when she throws, I'm like, 'All right, let's win second.' I feel like I won kind of."
The two have been going at it for the past three years. Grizzle beat Peoples in a shot put event when the OHS thrower was a freshman but the pair has maintained a positive relationship.
"We didn't really hold it against each other," Peoples said of exchanging victories. "We just help each other and try to get better."
Grizzle also competed in the discus, where she finished 12th, but her younger sister Domino Grizzle won her first state medal in the event. Domino set a personal record with a throw of 119-9 to place fifth.
The Grizzles weren't the only Chieftains to medal. Sophomore Jake Willis finished fourth in the pole vault by tying a school record with a mark of 13-6.
Senior Austin Smith came close to medaling, but finished tied for eighth in the boys high jump.
In track prelims on Friday, the Chieftains advanced to the finals in three events.
DJ Lindsay had the second-best time Friday in Class 4A's 200-meter dash to qualify for Saturday's final.
Lindsay also anchored two relay teams that qualified. He ran with Jeremy Carlisle, David Powell and Bret Koch to a school record of 3:24.77 in the 4x400. Earlier, Lindsay teamed with Koch, Willis and Carlisle in the 4x100 relay. THS had the fourth best prelim time on Friday.
Tonganoxie High state track results
Friday
Girls
Shot put — 2. Roni Grizzle, 41-1.25
Discus — 5. Domino Grizzle, 119-9; 12. Roni Grizzle, 106-9
Boys
Triple jump — 12. Dylan Scates, 40-8.75
Pole vault — 4. Jake Willis, 13-6
4x100 prelims — 4. Bret Koch, Jake Willis, Jeremy Carlisle, DJ Lindsay, 44.17
200 prelims — 2. DJ Lindsay, 22.36
4x400 prelims —3. Jeremy Carlisle, David Powell, Bret Koch, DJ Lindsay, 3:24.77
High jump — tie-8. Austin Smith, THS, 6-0