THS

4x400 relay team brings home gold in Class 4A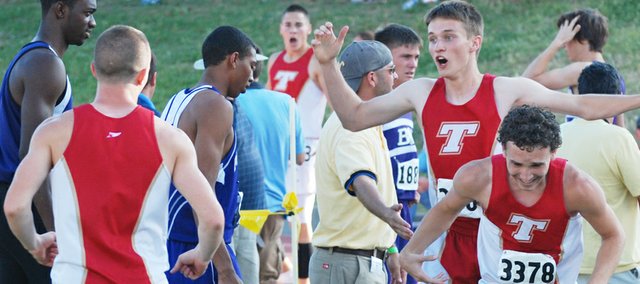 The Tonganoxie High boys 4x400 relay team of Jeremy Carlisle, David Powell, Bret Koch and D.J. Lindsay came together for a golden race Saturday in Class 4A competition at the state track and field championships in Wichita.
The squad dazzled the Chieftain faithful on hand at Cessna Stadium with a first-place finish of 3 minutes, 22.5 seconds, a THS record, just ahead of Atchison, which finished in 3:23.94.
The state title capped a great day for Tonganoxie at Cessna Stadium. The gold medal was the Chieftains' sixth medal of the day.
For complete reports from Wichita, see sports coverage in the June 3 print edition of The Mirror.
Tonganoxie High state track results
Saturday
Girls
Javelin — 3. Roni Grizzle, 144-10; 5. Chrissie Jeannin, 130-8
Boys
4x100 — 7. Bret Koch, Jake Willis, Jeremy Carlisle, DJ Lindsay, 44.73
800 — 7. Jeremy Carlisle, 1:58.27
200 — 4. DJ Lindsay, 22.84
4x400 — 1. Jeremy Carlisle, David Powell, Bret Koch, DJ Lindsay, 3:23.5