Jeannin ends cross country career at state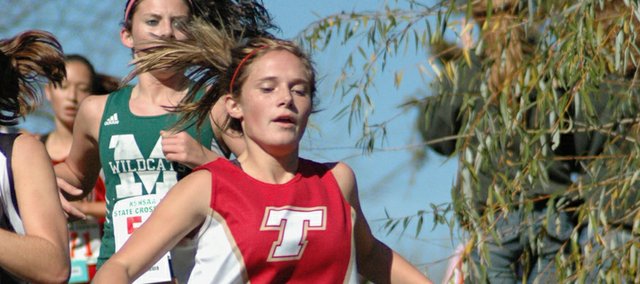 Before the Class 4A girls state cross country meet began Saturday at Wamego Country Club, Tonganoxie High senior Andie Jeannin thought she might be in a bad spot.
But before long, she was running strong as usual, finishing a successful high school career in style.
As Jeannin went to her position on the starting line, she was on the far right, and worried about falling behind her pace early in the championship race.
But Chieftains coach Phil Williams came up to her and pointed out that — because of the course's design — Jeannin could begin her run on a straight line while most of her competition would have to run at an angle.
With an eased mind, the THS senior took off for the third state run of her prep career, gave it her all, and finished 35th with a time of 16:54.
A veteran runner familiar with the Wamego course and the level of competition, Jeannin knew Saturday's 4K would be far more difficult than the average cross country race. She knew she wouldn't be able to keep up with the top group, but she wanted to compete in the next tier, with the top of that pack.
Even if a medal, which goes to each of the top 20 runners, was out of reach, Jeannin's goal for Saturday was not.
"Obviously, I always want to medal," Tonganoxie's lone state qualifier said. "But I've ran at state before and I know how hard it is to medal, so my goal was to try and get between 30 and 40 — which I did, exactly — so I was really happy with that."
Williams said Jeannin's performance ranked near the top of her four years as a Chieftain.
"Andie had one of the best races of her career Saturday," Williams said. "Her time was excellent, and she beat several girls who had beaten her earlier in the year."
Jeannin said she was completely healthy and feeling good heading into Wamego, which made it easy to pour all of her energy into the state race.
"I ran hard, like the entire time," Jeannin said. "At the end I usually have a lot left to kick. I didn't have that much left."
After missing out on a state qualification as a junior, Jeannin ran at state for the third time in her prep career on Saturday, quite a feat, according to Williams. The coach was impressed with how Jeannin turned things around her senior year.
"Her junior year was not as good as her first two years, and I was concerned about how she would do this year," Williams recalled. "She responded very well and became a role model for our entire team. Andie worked extremely hard every day, and encouraged all the other girls so that our team became stronger."
Thinking back to her junior year, Jeannin said she wasn't as concerned about her performances then because cross country wasn't always her favorite sport.
"Sometimes you just want it to end," she said with a laugh.
Her senior year, though, Jeannin was determined to give the sport her all.
Her coach said it paid off.
"Andie finished as one of the most successful girls cross country runners we have had," Williams said, "as successful as any in the last 18 years."
Class 4A state cross country
At Wamego Country Club
Girls 4K
Top five individuals: 1. Morgan Wedekind, Valley Center, 15:00; 2. Cheyenne Becker, Pratt, 15:26; 3. Molly Milbourn, El Dorado, 15:31; 4. Sienna Durr, Baldwin, 15:53; 5. Brooke Vining, Valley Center, 15:55.
Top three teams: 1. Baldwin, 40; 2. De Soto, 92; 3. Wamego, 133.
Boys 5K
Top five individuals: 1. Riley Woodward, Wamego, 16:19.35; 2. Evan Landes, Mulvane, 16:19.76; 3. Tony Weiss, Baldwin, 16:38; 4. Nick Lockwood, Mulvane, 16:39; 5. Nikki Troolen-Smith, Mulvane, 16:40.
Top three teams: 1. Mulvane, 30; 2. Wamego, 51; 3. De Soto, 120.