McLouth coach deems '09 volleyball season a success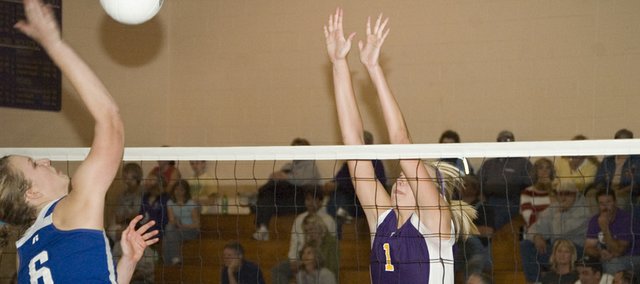 Although the Bulldogs might have been capable of winning a few more matches, and the team's season ended in a tight, emotional sub-state loss, reflecting back on the 2009 McLouth High volleyball season, coach Erika Houk was happy that the squad battled with nearly every team it faced.
"I think we had a very successful season," the MHS coach said. "We were very competitive and no one team ever put a huge beating on us."
Houk said the team was capable of posting a better record than 22-16, but the coach said the Bulldogs struggled to find a killer instinct and put away opponents.
Not that she's complaining or disappointed.
"Overall, I'm happy how it ended," Houk said. "The girls worked hard and kept improving."
Of course, none of the Bulldogs was happy with the match that ended the season. When McLouth was eliminated from a sub-state tournament Oct. 24 at Wellsville, it was crushing.
"The girls played amazing at sub-state," Houk said. "It was a very hard loss. We had many opportunities to win the match but just couldn't finish."
After winning the first game, 25-20, against Jefferson County North, MHS lost the next two — each by two points, 28-26 and 25-23. McLouth's third-year coach said it was bittersweet.
"It was probably the best as a team we played all season," Houk said. "It was a tough loss for me and also the seniors, knowing that their high school volleyball career had just ended."
The sub-state setback was the final match for MHS seniors Cassidy Bristol, Courtney Chilcoat, Alexa DePriest, Taylor Rush and Kylie Shufflebarger.
Houk said they would be a difficult nucleus to replace.
"My senior class was a huge part of this year's team," the coach said. "Losing them will be very tough for next season — especially a dominating hitter like Kylie."
Fortunately for McLouth, the team had a number of underclassmen contribute this season. Houk predicts the leadership void will be filled by this year's juniors — setter Jeri Holwick, Katy Perry, Logan Terry and Jessie Troupe.
"All these girls have had over two years of varsity experience and plan to put (in) a lot of time in the offseason," Houk said.
Next year's seniors will also be helped by Terri Stewart, a sophomore who has played varsity the past two years.
"I predict that next year we will be a very strong defensive team because of the senior hitters we are losing," Houk said. "But there will be a lot of varsity-experienced returning players."