Blackhawk fly-in wows Friday's crowd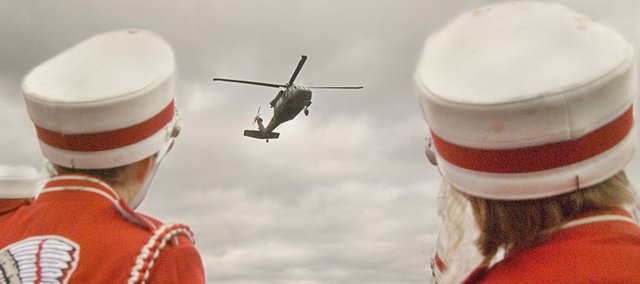 It was cold. It was windy and it was soggy.
It didn't matter Friday at Beatty Field.
Hardly ideal weather conditions didn't damper the excitement on the Tonganoxie High School campus as a Blackhawk helicopter landed on the football field turf.
The event was part of Red Ribbon Week — a nationwide event that promotes living healthy, drug-free lives — in the Tonganoxie School District.
During Friday's program, students from all district schools filled the home seating section and lined the track in front of the stands. The Tonganoxie VFW presented the colors, while the THS Marching Chieftains and dance team performed at the event, which was open to the public. The middle school jazz band performed as well at the event as people filed into the stands.
After the helicopter landed, THS principal Jamie Carlisle served as master of ceremonies, introducing people who rode in the helicopter.
One by one, Carlisle introduced the few faculty members selected to ride in the helicopter: Tonganoxie Elementary School principal Tammie George, Tonganoxie Middle School activities director Phil Jeannin, THS teacher Andy Gilner and TMS teachers Stacy Willis and Michael Bush. Sunflower Broadband Channel 6 reporter Mark Boyle also flew in the Blackhawk.
Each person spoke to students about reaching for their dreams and doing so without abusing drugs and alcohol.
George told students she was going to say something that might raise some eyebrows — she wanted students to get high.
"I want you to get high on life," George told students.
She said she wanted them to feel that natural high of being pumped up when they work hard on studying for a test and then see that they received a good grade on it, or helping their team win in athletic competitions.
For Jeannin, he reminded students of our military and their sacrifice. He spoke about his son-in-law, Spc. Lucas Frantz, who died Oct. 18, 2005, his 22nd birthday, while serving in Iraq.
Tim Brundage, a Tonganoxie High School graduate and member of the Kansas National Guard, piloted the Blackhawk.
He said it was good to be able to pilot an event in his hometown and "give back."
"It's pretty cool," Brundage said before the event. "A lot of people know me there, so it will be nice."
Beth Fritz's fourth-grade class recited the Pledge of Allegiance during Friday's festivities, while the Chieftain Singers performed the National Anthem.
High school students spoke about the importance of honoring the military, as well as why they stay drug-free.
One THS student, senior Colin Rosewicz, had an interesting take on why not to do drugs.
He told fellow students that drugs are expensive, therefore it's bad for your budget, triggering a roar of laughter.
He said drugs were bad for one's health and budget, and he needs both if he expects to make it through college and beyond.
After the event concluded, students checked out the helicopter, climbing inside for a closer look and taking photos with friends.
Marcus Titterington, a sophomore at THS, said the helicopter was impressive.
"My dad was in the military, but I've never seen anything up close," he said. "It's really awesome."
Before he started teaching, Bush served for 24 years in the military, from Fort Riley to Germany and several other places around the globe.
Bush spoke highly of Friday's event, for its message about making wise decisions and staying away from drugs. He said it was good for students to hear those messages, and he appreciated how it honored the military.
"It just puts such a focus on what truly is important," he said.
Bush said Friday's helicopter ride was nothing new to him with serving in the military, but "it's always a thrill" to fly in a helicopter. It also was nice, he said, to "talk shop" with other people in the military. Bush retired from the military in 1998.
Maj. Steve O'Neill with the Kansas National Guard also accompanied Brundage, as did Spc. Josh Wolfe.
O'Neill said their group has done three of the fly-ins at schools in the last two weeks and averages about 10-12 a year out of Forbes Field in Topeka. O'Neill said another of their duties is to escort the governor and other dignitaries when needed.
He said he looks forward to getting out to visit various towns for the school fly-ins, noting it sometimes "breaks up the monotony."
During the helicopter trip, the Blackhawk started in Basehor and headed toward Lawrence. Brundage piloted a low fly-through at Lawrence Municipal Airport and then headed to the Douglas County State Fishing Lake near Baldwin City before heading back to Tonganoxie for the fly-in. The trip lasted about 40 minutes.