Liquor stores report mild sales after vote
But owners expecting increased sales as people become accustomed to new city ordinance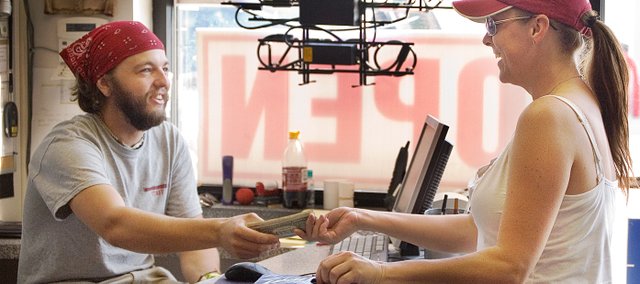 Just a little more than a month after Tonganoxie residents voted by roughly a 2-1 margin in favor allowing the sale of retail liquor on Sundays and select holidays, city liquor store owners are reporting moderate sales, but they say the best is yet to come.
On Monday, Mary Krouse, owner of Mary's Retail Liquor said the extra day of sales hasn't been record breaking, but she expects her sales to improve on major holidays, when residents can stay in town to make their purchases.
"Everybody that walks in says how glad they are that we're open and they don't have to go out of town," she said.
Debbie Lingenfelser, co-owner of JR's Liquor, echoed Krouse's comments and said sales have been OK, but she expects them to get better as more people become accustomed to the change and when holidays arrive.
"I wanted the holiday sales for sure," Lingenfelser said. "Sunday sales was neither here nor there for me."
Both owners say even with the prospect of more sales, there is a downside to being open every day of the week: losing their day off.
Krouse said she has given the employees who have asked for more hours the opportunity to work on Sundays, but Lingenfelser is working the shift herself. She hopes once business picks up during the summer she'll be able to hire another employee.
One concern vocalized by residents about allowing retail liquor on Sunday was its effect on crime in the city.
Tonganoxie police Lt. Billy Adcox said Monday that in the 43 days since the special election, there has been no increase in DUIs or alcohol-related car accidents in the city.
"We've seen no increases at all," Adcox said. "It's been nice and quiet in Tonganoxie."
According to Kansas statute, the results of the election to allow Sunday retail liquor cannot be challenged for 10 years.