Saltwater in veins of Navy veteran from Pomona
Jack Richtor had dreamed all his life of being in the Navy. One of his uncles was in the Army, another in the Navy, and his older brother was headed there but didn't make it past basic training.
Richtor was determined; he had saltwater in his veins.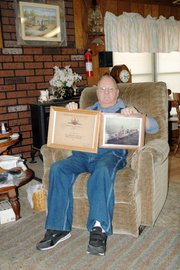 When he turned 17 in 1953 during his junior year of high school, he convinced his father to grant parental consent, dropped out of school and left his home in Oregon to join the Navy.
"I believe it is every person's duty to serve the nation," he said.

Richtor, who now lives in Pomona, is a Korean War veteran, but he never actually made it to Korea. The Korean War itself ended in 1953, but from 1953 to 1957 Richter patrolled the Taiwan Strait during what he referred to as the Korean Conflict.
During those four years, Richtor alternated spending five months on base in Long Beach, Calif., and seven months patrolling foreign waters.
Richtor was present for Operation Wigwam, which was the underwater detonation of a nuclear bomb off the coast of California. When away on patrol, the destroyer ship Richtor was on most frequently visited the Subic Bay naval base in the Philippines and Yokosuka in Japan.
When the ship was docked, the men had every other weekend free to spend in the nearest city.
"Usually three or four of us would go to a bar, have a few drinks there. Wasn't much to do over there," Richtor said.
During the two or three weeks at a time that the ship was out to sea, Richtor and the other crew members circulated through four-hour watch duty shifts. During one 24-hour day, everyone completed two watch shifts, spent eight hours working their designated positions on the ship and the remaining eight hours eating and sleeping. Richtor was a boiler tender and spent eight hours a day working in the fire room. His experience on the ship taught him the value of working together with others.
"If you didn't have teamwork aboard ship, you wouldn't have anything," Richtor said.
The Navy also taught Richtor the meanings of friendliness, honesty and respect.
"When someone tells you to do something, you follow the chain of command and you do it," he said.
Richtor left the Navy with a sense of accomplishment and pride.
"I was a kid going into the Navy, and when you come out you're a man," he said.
Richtor enjoyed his Navy experience, coming away with lasting friendships, world travel and free education, which included getting his high school equivalency diploma while docked in Hawaii.
Two years after Richtor finished his term, he married his wife, Wanda. He was still living in California with a Navy friend's sister and brother-in-law when they met at church.
Since then, the Richtors have moved from California to Texas to Kansas, where Richtor is originally from, for his career. His first job out of the Navy was making aircraft fasteners, which he described as metal screws made from a higher-class material than commercial fasteners, used for building aircraft. He's been in the business ever since.

Richtor has also been building his family over the past 50 years. He has two sons, Jess and Darren, and five grandchildren.
Both of Richtor's sons have followed in their father's footsteps in different ways.
Jess was a Navy man for 13 years and still works as a civilian on base in Norfolk, Va. And Darren works at Mack Fasteners with Richtor, who never fully retired.
As a member of Veterans of Foreign War Post 5901, Richtor never really left the Navy completely, either.
Richtor joined the VFW after he moved back to Kansas in the 1980s. He can be found there on Thursdays talking over a drink with friends during bingo, dancing on Saturday nights, and at the occasional potluck dinner and post meeting.

None of the veterans at the VFW served with Richtor, but he still keeps in touch with his buddies from the service. Two of his close friends live in Mississippi and Tennessee, and every six months the three families reunite, alternating among hometowns.