Health department expands priority groups for
H1N1

vaccine
All persons 6 months to 24 years now eligible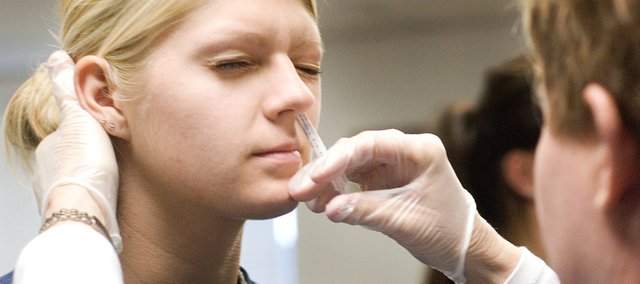 Leavenworth County Health Department will have a free public H1N1 flu clinic from 9 a.m. - 3 p.m. Monday at the health department, 500 Eisenhower Rd. in Leavenworth.
The health department has expanded the amount of people it will give the vaccine to. The new groups include: pregnant women; persons who live with or provide care for infants less than 6 months old; healthcare and emergency medical services personnel who have direct patient contact; and now people 6 months through 24 years old.
Additional public clinic dates will be announced on the Leavenworth County Web site www.leavenworthcounty.org as vaccine supply allows.
Additionally, Lori Golon will be holding an H1N1 vaccine clinic open to the general public who fall within the five established priority groups listed above from 9 a.m. - noon Saturday, in the second floor lobby of the Cushing Medical Plaza Building, 1001 6th Ave., Leavenworth. The cost for this clinic will be $15.00. Only cash payments will be accepted and payment must be rendered at time of service.
The H1N1 vaccine has also been distributed to various private providers in the community who are also only immunizing the priority groups listed above. To view a list of providers who have been given the vaccine and who each private provider is willing to vaccinate visit www.leavenworthcounty.org.