Growing closer: Volleyball players bond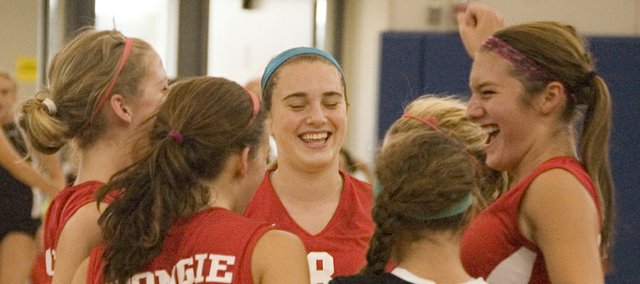 There was a point in the season when Tonganoxie High's volleyball players weren't that close.
Yes, they were teammates. But it was a casual bond, not too deep.
Had the Chieftains maintained that distance, and not started caring for each other and playing with one another, they probably wouldn't have finished the season so strong (winning 15 of their final 19 matches) and they certainly wouldn't have been so emotionally rattled when it came to an end at a sub-state tournament Oct. 24 in Kansas City, Kan.
In the moments following their season-ending loss to eventual Class 4A state champ St. James Academy, Tonganoxie's 12 players stood huddled in a corner of an unfamiliar gym, with tears streaming down their cheeks.
Their season was finished, but they didn't want it to be.
So they kept holding on to one another — some with hugs, others by taking comfort on every shoulder they could find to cry on.
Senior Abby Eisman said in the tearful minutes following the season's demise, the players and coaches talked about the team's rough start (THS went 10-10 in its first 20 matches before finishing with a 25-14 record) and how the Chieftains initially didn't play like a team.
"We definitely turned everything around — how close we were, how we played," Eisman said.
Junior Molly O'Hagan said the team transformed because of the leadership of its senior class — Eisman, Maggie Franiuk, Ali George, Lauren Hall and Allison Kistner.
The Chieftains became much closer late in the season, Eisman said, and once they turned things around, those newfound emotional bonds made it rough to see the campaign come to an end.
"We're not just a team, we're like a family, so it's hard to see that end because we all want the best for each other, so it's hard to just let everybody go," Eisman said.
O'Hagan agreed, and said because the Chieftains learned to rely on each other, they didn't want to leave that behind.
"We really do spend pretty much every waking moment together. Volleyball's a sport where, literally, you can not do anything by yourself," O'Hagan said. "When you have to rely on somebody constantly in a game setting, I think it kind of makes you rely on them in life as well."
THS co-coach Brandon Parker said the Chieftains learned "there's more in this world than themselves" this season and their selflessness down the stretch made them better.
"They've come further than any team we've ever had," Parker said of he and co-coach Tiffany Parker's nine years at THS.
The journey may have come to an end with a tear-filled hug-a-thon, but that is a scene the coaches hope is indicative of what the program means to the players.
"I hope it's about the program," Brandon Parker said, "because we've always said if you don't have tears or emotions at the end — whether good or bad, good or sad, I guess I should say — then you really haven't done anything."