Warriors wrestling season under way
Photo Gallery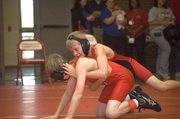 TMS wrestling quad
Tonganoxie Middle School's wrestling team opened its season on Thursday with a quadrangular at Tonganoxie High. Warriors grapplers went 35-39 in their matches.
The Tonganoxie Middle School wrestling team made its season debut Thursday in a quadrangular at Tonganoxie High.
Warriors wrestlers went 35-39 in individual matches, scoring 25 pins against grapplers from Holton, Oskaloosa and Turner.
On Saturday, TMS traveled to Bonner Springs for a league tournament at Clark.
The combined record for Warriors wrestlers at the event was 55-54. Tonganoxie won 42 of its matches by pinfall.
TMS individual records (pins):
Timothy Beadle, 0-5
Jordan Boudreaux, 4-1 (4)
Billy Briggs, 0-2
Mitch Brock, 5-1 (5)
Luke Carey, 4-1 (4)
Greg DeVeau, 0-5
Sinjan Gergick, 2-3
Andrew Harris, 1-4 (1)
Carl Hecht, 2-4 (2)
Clayton Himpel, 5-0 (3)
Cole Holloway, 5-0 (3)
Duskin Hull, 1-4 (1)
Asher Huseman, 4-1 (4)
Matthew Johnson, 0-3
Zeke Kissinger, 5-0 (4)
Hunter Lehigh, 1-4 (1)
Shane Levy, 4-1 (3)
Justyn Leslie, 1-5 (1)
Garrett Martin, 3-2 (2)
Thomas Minor, 0-6
Raymond Munoz, 0-3
Clayton Neas, 4-2 (4)
Kendall Parsons, 0-3
JD Peel, 2-5 (1)
Lucas Riddle, 1-4 (1)
Cole Searcey, 2-3 (1)
Jeran Sharp, 3-2
Cody Snyder, 0-0
Jared Somers, 4-1 (4)
Dalton Tavis, 5-0 (4)
Nathan Tutor, 0-6
Tyler Warthen, 0-5
Joseph Wolf, 6-0 (5)
Seth Wolf, 4-2 (3)
Connor Yates, 2-4 (2)
Dylan Yates, 4-1 (1)