Tonganoxie man sent to area hospital after two-vehicle crash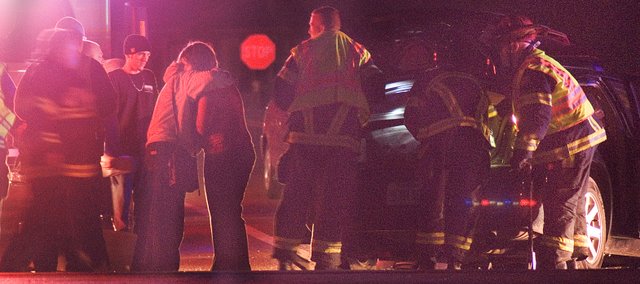 A Tonganoxie man injured in a two-vehicle accident Wednesday in Tonganoxie, originally taken to Lawrence Memorial Hospital, has been transferred to Kansas University Hospital, a hospital official said Thursday.
Leonard D. Sharon, 72, Tonganoxie, was injured in the accident and taken by Leavenworth County Emergency Medical Service to Lawrence Memorial Hospital. An official there said Thursday afternoon that he had been transferred to KU Hospital.
On Monday, an official at KU Hospital said Sharon was in serious condition.
The accident occurred about 5:30 p.m. Wednesday at U.S. Highway 24-40 and Stone Creek Drive in Tonganoxie.
According to Kansas Highway Patrol reports, a 2007 Chrysler 300 driven by Darla K. Heard, 46, Oskaloosa, was heading west on U.S. 24-40 when a 1983 Toyota Tercel, driven by Sharon, turned north onto Stone Creek Drive from U.S. 24-40, where he had been heading east. Heard's vehicle struck Sharon's vehicle and the impact pushed Sharon's vehicle into the ditch northwest of the intersection.
Amanda M. Rowland, 21, Oskaloosa, also was taken to Lawrence Memorial Hospital where she was treated and released. She was a passenger in Heard's car.
Darla Heard and another passenger, Bryant Heard, 24, Oskaloosa, were not injured, reports said. Sharon was not wearing a seatbelt, while everyone in the Chrysler 300 were wearing seatbelts, reports said.