One-vehicle accident occurs Monday morning near Stranger Creek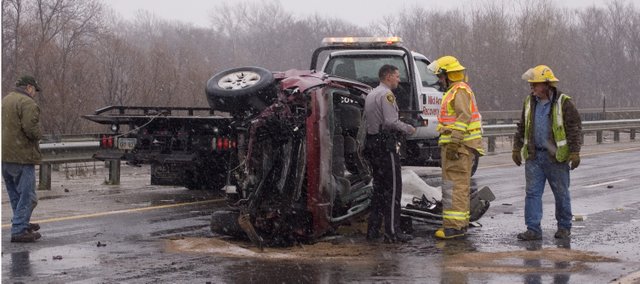 A one-vehicle rollover accident occurred about 10 a.m. Monday morning on U.S. Highway 24-40 between Tonganoxie and Basehor as a wintry mix of precipitation fell throughout the area, sending a Tonganoxie man to an area hospital.
According to Leavenworth County Sheriff's reports, Robert W. Fuller Jr., 56, Tonganoxie, was driving a 2005 Ford Escape east on U.S. 24-40 near Stranger Creek when he attempted to move from the outside eastbound lane to the inside eastbound lane.
The vehicle struck an inside guard rail and then flipped one or two times, Maj. Ron Cranor said Monday.
The vehicle came to rest on the driver's side and Fuller had to be extracted from the vehicle.
Cranor said reports didn't indicate whether Fuller was wearing a seat belt.
However, Cranor said he heard during an initial call from the accident that an official on the scene said it didn't appear to be a serious accident. And reports said Fuller was taken by Leavenworth County Emergency Medical Service to Kansas University Hospital for "non life-threatening injuries." A hospital official there could neither confirm nor deny Fuller is a patient.
Stranger Township and Tonganoxie City fire departments also responded to the scene. Traffic heading east on U.S. 24-40 was re-routed north on 198th Street, which is more than a mile east of Tonganoxie. The accident occurred about 3 miles east of Tonganoxie.