City plans 'stimulus package'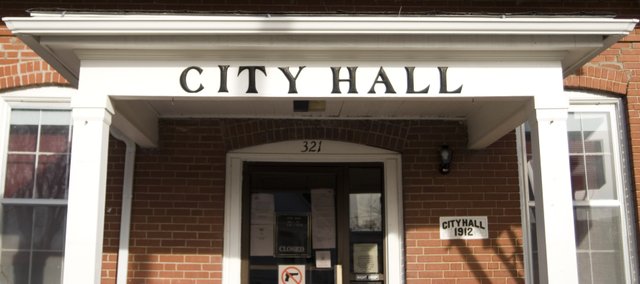 Move over President Obama, Tonganoxie has its own stimulus plan.
City leaders want to boost home construction and bring new residents to the city and they have a new plan to do it: give people money back at closing.
"Any time you tell somebody I'm going to put money back in your pocket, that's a really strong selling point," Councilmember Jason Ward said.
During a Monday night work session, the Tonganoxie City Council scrapped their original plan to provide a property tax rebate for people who buy newly constructed homes over a period of time in favor of refunding buyers the money from building permits.
The builder would pay the building permits to the city and once the house was purchased, the city would rebate the money for the permit directly to the homebuyer.
Kathy Bard, the assistant city administrator, said the average building permit in Tonganoxie costs between $6,000 and $7,000.
The permit includes a $2,000 water tap fee, a $2,750 sewer tap fee, $500 for a water meter, a $.09 per-square-foot charge for excise tax and $40 per-square-foot valuation fee.
Bard said the water and sewer tap fees pay for debt service in their respective accounts while the excise tax is used for road improvements. The remaining permit money goes to the city's general fund to pay for building inspections and other administrative costs.
Because the city will be rebating money for which it has budgeted, Bard said city taxes would change in the future to make sure the city meets its debt service.
"You'll have to levy taxes to reimburse those accounts," she said about the water, sewer and excise tax accounts. "If you want to give back a $2,000 water tap (fee), it will have to come out of the general fund."
Bard said she would develop a chart for city council members to show how much tax money must be levied for each permit so the council can determine how many building permits they can refund.
Tom Putthoff was in favor of either limiting the number of permits that will receive the rebate or limiting the amount of time the stimulus plan would be offered.
"On a stimulus package you want it immediately and not stretch it out," he said. "If you put a deadline on it, people tend to jump at the offer of saving money."
Competition
The idea for a new incentive for homebuyers came from the city's slacking home construction numbers —currently the city has only issued 19 building permits this year — and a recent incentive plan adopted by Basehor.
City leaders wanted to make sure Tonganoxie stayed competitive with the surrounding area.
In the Basehor plan, a person who purchases a home that is at least $140,000 and is in one of the designated neighborhood revitalization districts is eligible to receive a rebate of 95 percent of the property taxes on the home for the first three years and 50 percent of the home's property taxes rebated three years after that.
For weeks the council was hesitant to proceed with a similar plan without getting an opinion from the Kansas Attorney General's office on what constituted a revitalization district and how much area it could cover.
Part of the description for a neighborhood revitalization in Kansas statutes is "an area in which there is a predominance of buildings or improvements which by reason of dilapidation, deterioration, obsolescence, inadequate provision for ventilation, light, air, sanitation, or open spaces, high density of population and overcrowding, the existence of conditions which endanger life or property by fire and other causes or a combination of such factors, is conducive to ill health, transmission of disease, infant mortality, juvenile delinquency or crime and which is detrimental to the public health, safety or welfare."
In the opinion from the Attorney General's Office, Mary Feighny, deputy attorney general, wrote, "it is up to the governing body to determine whether vacant lots in new subdivisions are 'property eligible for revitalization.'"
"It's a stretch to think that any of these new subdivisions meet any of these classifications," Bard said during the work session.
The council wanted to avoid showing favoritism to any specific new subdivision and it wanted to avoid the program becoming a political tool developers could lobby for so it chose the more neutral building permit rebate approach.
Old neighborhoods
While the new plan is mainly geared to the construction of new homes in new subdivisions, the city council also has a plan for the older neighborhoods in town that might meet the spirit of the neighborhood revitalization program.
During the work session, the council agreed to include all areas of Tonganoxie not in a new subdivision as part of a neighborhood revitalization area.
A home remodel, which would increase the home's value by a minimum of $5,000, would be eligible for a 95 percent rebate on property taxes on the increased value of the home for the first three years and then a 50 percent rebate each of the next three years after that. If an older home would be torn down and a new home of at least $120,000 in value built in its place, the buyer would be eligible for the same property tax rebate for the difference in home value.
Dan Lynch, owner of Lynch Real Estate, said he was in favor of these plans.
"We need this as ammo to move forward to keep people coming in to Tonganoxie," he said.
Bard said she hopes to bring a modified incentive package to the council for its Dec. 14 meeting.