Shufflebarger signs letter with
FHSU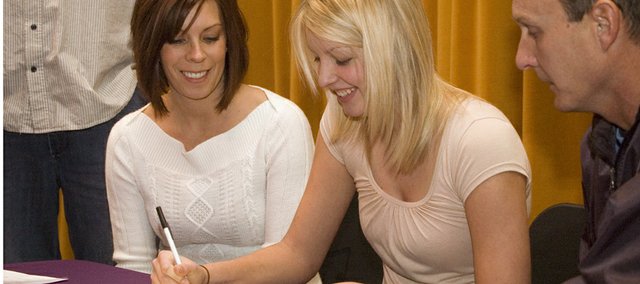 It wasn't until last year, during her junior season at McLouth High, that Kylie Shufflebarger fell in love with volleyball.
At that point, she started thinking about extending her career to the college ranks.
On Monday, Shufflebarger, now a senior at McLouth, took the next step in meeting her goal by signing a letter of intent to play for Fort Hays State University.
The tall, athletic hitter realized she wanted to play at the collegiate level in 2008, while helping the Bulldogs improve vastly and finish with a winning record for the first time since she began playing at MHS.
"Last year was our first winning season, and I just realized how much I liked volleyball," Shufflebarger said.
McLouth coach Erika Houk said she could see last year that Shufflebarger also had the talent to play in the college ranks.
"She'd been working toward that for a long time," Houk said. "I think she just finally got the confidence in herself to realize that she was capable of playing at that next level."
The confidence and skill level grew even more in her senior year, Houk said, as Shufflebarger led McLouth to a 22-16 record.
Her growth made signing with FHSU possible, and the soon-to-be Tiger said it felt good to make her college decision official by signing her letter at a ceremony Monday afternoon inside MHS.
"It's definitely a stress reliever, just to know where I'm going to go," Shufflebarger said. "I've been waiting for this day for a long time."
On her visit to the FHSU campus in Hays, Shufflebarger watched a Tigers volleyball match at Gross Coliseum.
"I liked the atmosphere and I really liked the coaches," she said of first-year Fort Hays State coach Kurt Kohler and his staff.
Shufflebarger had lunch with them, and everything seemed right. She felt she would fit in there.
And there (Hays) is 250 miles from Shufflebarger's current home (McLouth).
"It's a good distance — not too close, not too far away," she said with a big smile. "I'm sure my family will come and visit me all the time."
When they make the trip to FHSU to watch her play next year, Shufflebarger said she wants to be an even more effective player.
"I really hope I get better defensively, like in the back row," she said, noting she is looking forward to competing for playing time.
Eager to start her college career, Shufflebarger said she is looking forward to meeting new people, experiencing life outside a small town and succeeding at FHSU.
What will she bring to the Tigers roster?
"I just hope I can contribute in any way just to make them better," Shufflebarger said.
Her high school coach said Fort Hays State would be getting a capable player with a great attitude and ability to keep improving.
"She's a leader, on and off the court. She'll do anything that they ask her to do," Houk said. "They're definitely lucky to get her."