Tonganoxie soccer seniors 'make their mark' on program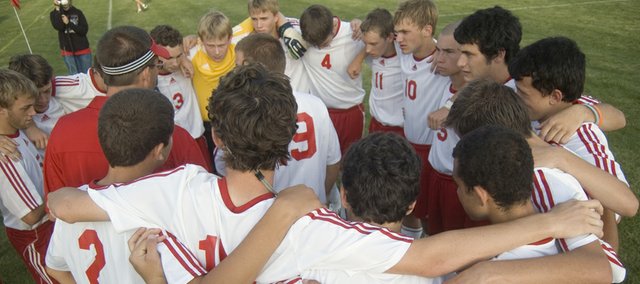 What a turnaround.
During their first three years in the Tonganoxie High boys soccer program, the class of 2010 suffered through pounding after miserable pounding, winning just seven times in 51 matches.
Trudging through that dreadful stretch, though, just made this season oh so sweet for the Chieftains' seniors. They not only matched their win total from the previous three years combined, going 7-9-2, but also won a playoff match — on the road.
When THS won, 2-0, Oct. 27 at Atchison, THS senior Kenny Schultz said, it was a long time coming.
"That's what we've talked about the last four years, and we finally got to it our last year," Schultz said.
Before the 2009 season even started, Tonganoxie's nine seniors — Andrew Bouza, Mitch DeHoff, Brandon Hubbard, Bret Koch, Preston Putthoff, Keaton Schaffer, Matt Titterington, Schultz and Tyler Woolworth — put their heads together and talked about going out on a high note.
"This is it for us, and we wanted it, so we pushed everyone, too," Woolworth said of their approach.
Having a large senior class that had played together four years made it easy to set an assertive tone, Schultz said, and the team's familial feel and communication skills made for a satisfying senior season.
Closing their THS careers with that elusive playoff win, Koch added, made it worth the wait.
"I think it shows how much we've all grown over the past four years," Koch said. "It just shows we've all wanted it since freshman year."
Hubbard said the playoff victory meant a lot to the seniors, calling the experience "amazing."
"There's a lot of us," Hubbard said, "and we've been through the years of not doing so great in the soccer department."
It felt good, he concluded, to prove the program's worth at THS.
The Chieftains won four out of their final five matches this year to finish the season strong. That came after suffering through a six-match losing streak during which, DeHoff said, the team lost its focus.
"We just got focused again, and started playing with heart," he said of Tonganoxie's finish.
THS coach Ken Lott marveled at the team's determination and drive "to make their mark" on the program. Looking back at some statistics from 2006, when this year's seniors were freshmen, Tonganoxie had allowed about 80 goals and only scored 10. Three years later, THS looked like a different program, scoring 28 goals while allowing 31.
Clearly, the defense advanced light years from their freshman season. Schaffer, the team's middle defender, said no matter the alignment or whether DeHoff or freshman Keaton Truesdell was playing goalkeeper, the THS defense was effective.
"Our biggest strength was we had speed," Schaffer said.
Junior Jake Willis provided that outside and Schaffer did his share inside. Koch, who spent some time on defense as well, said the unit could do a bit of everything.
"We were pretty versatile in the back," Koch said. "We had Keaton (Schaffer), who was able to get to every ball because of his height, and then we had Willis, who was the fastest one on the team. And Marcus (Titterington) is really soccer smart — he knows the field really well."
Schaffer said the defense also had great chemistry.
"We read, we play off each other really well," he said. "We know what the other person's going to do."
Although THS will undoubtedly miss the seniors when next season comes, the cupboard won't be bare. Tyler Bartholomew, Matt Briggs, Cody Martin, Joseph Parrino, Matt Saathoff, Marcus Titterington, Truesdell and Willis all played plenty of varsity minutes this year.
It will be up to that group to continue the change this year's seniors initiated. If they can match the class of 2010's desire, and make their own mark, they might feel like Woolworth did at the end of his final season: happy after every match — win, lose or draw.
"I felt like we did amazing all year," Woolworth said.
Steady improvement
The Tonganoxie High boys soccer team has increased its win total each of the last three seasons during the careers of this year's senior class.
2006: 1-15-1
2007: 2-15
2008: 4-12-1
2009: 7-9-2