Transfer transition: Field moves from Tonganoxie to McLouth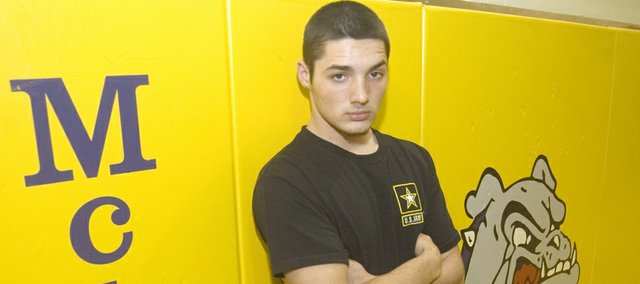 All summer long, EJ Field prepared for what he thought would be his senior year of football at Tonganoxie High.
In the weight room, at workouts, at summer camps, the defensive end showed promise, looking like a surefire impact player for the Chieftains.
But on registration day in August, Field found out there would be no senior year for him at THS.
Instead, he would enroll at nearby McLouth High.
It was all the result of one fateful trip down an icy gravel road last winter.
While driving his car, Field hit a slick spot and lost control as he tried to brake for a stop sign. The car slid directly into a ditch.
Remarkably, the damaged car kept running after the accident, but near the end of his junior year at THS, the auto couldn't hold on any longer and went kaput.
Field had lost his mode of transportation. In order to keep up to speed with the Tonganoxie football offseason program, he stayed with friends and relied on them for rides.
That plan was fine for the summer, but because Field lived in McLouth with his mother, she knew it wouldn't work when the school year came around. So on registration day, she enrolled him at McLouth.
It was a frustrating situation. Field thinks about his car accident a lot, sometimes while looking at his old Tonganoxie gear and wishing it had never occurred.
"If I'd have had my car, I'd still be down there (at THS)," he said.
But regret is not accompanied by resentment for Field, who quickly added, "I guess everything happens for a reason."
Adjusting to the new
That realization came with time. Field's initial reaction to the change was completely different. Starting anew at an unfamiliar school with a completely different football program was far from appealing.
"I didn't really want to come up here at first. I wanted to stay at Tongie," Field said.
Before classes started at MHS, Field only knew a couple students — one being new football teammate Alen Kramer — at his new high school home, roughly 12 miles northwest of his preferred destination.
The football was different, too: new plays, terminology, teammates and coaches.
"It took me a while to get used to everything," Field recalled.
Despite being thrown into a foreign environment, the latest addition to the Bulldogs roster didn't look the part of an unwilling transfer.
"He handled it rather well," MHS football coach Chris Stewart said. "He came in wanting to play football, and he really showed that."
It only took a couple of practices for Field to get comfortable, and he thought, "This might be all right."
Stewart said Field never showed a hint of a negative attitude through the transition.
"He's always been a very positive kid when it comes to football and everything that he does," the McLouth coach said.
Transition accomplished
Field's positive energy played a major part in what evolved into a successful, if not dominating, senior year for him at McLouth.
Although the Bulldogs struggled, going 1-8, Field led McLouth in tackles and was named to the All-Delaware Valley League first team for his play at defensive end — "I didn't think I was gonna get it," Field said of the honor.
The speedy 6-foot-1, 207-pounder made the majority of his plays on defense just by chasing down foes. Most of McLouth's opponents quickly learned to run their plays away from Field on the gridiron, but that didn't stop him from hustling.
"I did what I could to get the tackle for the loss," he said.
One of his most memorable highlights came in the season opener, an 18-13 win Sept. 3 against Immaculata in Leavenworth. Field perfectly read a fake punt and plowed through the ball carrier to force a turnover on downs.
Punishing tackles, however, weren't the only way Field made an impact. He returned a kickoff 55 yards for a touchdown in a 41-8 loss to Wathena on Sept. 25.
Plus, Field played receiver for McLouth. At that position, he loved to hear one play in particular called out in the huddle: "30 E nasty." Field would line up wide, go in motion, then come across the line of scrimmage at the snap to blow up an opposing defensive end.
And if he hadn't injured his right ankle in the season opener, Field was going to kick and punt for MHS, too.
For all his athletic ability, though, Stewart said Field's leadership was just as important as he meshed with fellow seniors Chris Culter, Kyle Mabary and Dacoda Reusch.
Field said playing at a high level through an eight-loss season wasn't easy, but he felt it was his duty.
"We had a young team and they've got to have somebody to look up to that doesn't give up every play and keeps going — you've got to push yourself," he said of his mindset.
What if?
As Class 3A McLouth struggled to get in the win column, Field's former team, Class 4A Tonganoxie, went 5-4.
The one-time Chieftain said he kept up with the THS season by talking to old teammates. Field would run into them from time to time or chat online with THS seniors Jason Espeland and DJ Lindsay.
Such encounters always brought up how much the Chieftains wished they had Field lining up for them and how his presence might have changed the outcomes of a few of their losses.
Humbly, Field doesn't put much credit in that line of thinking.
"I think I would've helped them out a little bit," Field said. "I don't think I would've done that much for them because it still takes the whole team."
However, Field's former coach, Mark Elston, begged to differ, calling Field the best defensive player at Tonganoxie's contact camp this past summer.
"He was a major part of our defense. A complete animal on the field," the THS coach said. "He would have been the best defensive player in our conference had he remained at Tongie."
Not only, Elston said, would Field have made the Chieftains better on defense, he would have made an impact on offense as well.
"Size, speed, strength, and the desire to make every tackle, he possessed all those qualities," Elston said.
Prepared for the future
Thanks to a seemingly insignificant one-car accident nearly a year ago, no one will ever know what might have been for Field at Tonganoxie.
But he said the whole ordeal has been quite the learning experience.
His stellar play has led to letters and questionnaires from various collegiate football programs, and Field is thinking about taking the junior college route before, he hopes, moving on to a four-year institution.
At the next level, he'll likely have to change positions — outside linebacker looks like a good fit because he doesn't have the size to play defensive end at the college level.
After moving to a new school and playing for a new team as a senior, going through a major change won't be anything new for Field.
"I'll be ready for it," Field said. "I'll be more aware and able to get everything down quicker."
Looking back at it all now, Field doesn't think about what might have been. As he did through the transition, he focuses on the positive.
"I still got to play football," he said. "That's all that really mattered to me."