Adjusting to new coach easier than expected for
MHS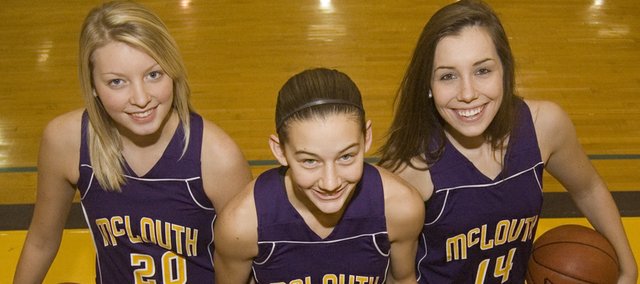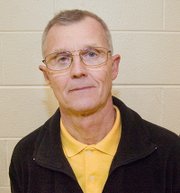 When members of the McLouth High girls basketball team heard that their new head coach had recently retired from 20 years of military experience, they expected the worst.
Nightmares of a no-nonsense drill sergeant flashed in their minds. Their legs were sore just thinking about it.
"Oh my gosh, we're gonna have to run so much," senior Bulldogs forward Cassidy Bristol recalled thinking.
The MHS players had no idea what they were getting into. And that frightened them.
Then they met coach Bob Good.
"He came in and he was all nice," a relieved Bristol said.
Good assumed his new players were dreading an in-your-face military type, so he shot down those assumptions in his first meeting with the team and set the tone for what the Bulldogs expect to be a winning season.
"I'm not a hard-nosed person," Good said. "I'm more of a let's have some fun type of person."
When Good came in with that attitude, it relaxed the players and made it easy for them to play for someone new who was replacing departed coach Todd Cossman.
The transition was nearly seamless.
"He's a really nice guy," senior forward Kylie Shufflebarger said of Good, "really easy to get along with — it's not too hard."
Although Good hasn't coached since 1990, when he was the head coach at Sabetha, he isn't showing much rust.
Senior guard Missy Rome said the Bulldogs are getting a solid hoops education.
"He's taking things slow, so people are learning more things," she said.
One tool that has really caught on with McLouth is Good's idea to have the players memorize quotes, which Rome said helps them remember key concepts.
Shufflebarger, who averaged a team-high 8.8 rebounds last season, said she likes Good's style.
"I think Coach Good is a lot more fundamental," she said. "He wants us to do what we do and do it right."
In the past, Good said, his teams had some depth, and he thinks that might be the case for McLouth this season.
The Bulldogs return six key players from last year's rotation. Not only do the team's three seniors — Bristol, Rome and Shufflebarger — come back, but sophomore guards Morgan Drinnon and Terri Stewart will make an impact and junior forward Logan Terry will help the team's post depth.
Junior Jessie Troupe will also be in the lineup after missing last season with a knee injury.
Although Good wasn't around for the team's 11-11 campaign in 2008-09, he said MHS expects to get some quality wins, be more competitive and improve upon that mark this season.
Bristol, who averaged 5.6 points a game her junior year, said McLouth is capable of a winning season.
"I think we'll have more wins than losses because last year we were good but we had younger starters," she said, noting Drinnon (6.6 points per game) and Stewart (5 ppg) are improved after playing with MHS this summer. "I think we built a stronger support system."
Rome agreed that the team's continuity will be a boost, and said McLouth will be stronger defensively because they are more comfortable.
"Last year, no one could learn the offenses, so we had to focus on that more. This year, our offenses are easier," Rome said, explaining that has allowed them to focus more on defense and play it without looking like they are "running around with our heads cut off."
Good is looking forward to this season at McLouth. He said the team has a fun attitude and the players don't take things too seriously.
"They'll play hard, but it's not life or death," he said.
And now that the Bulldogs know Good, they know the coach won't be too uptight either.
Noted Rome somewhat cautiously: "He hasn't yelled at us — yet."
The McLouth season begins with a 7 p.m home tip-off Thursday, Dec. 3 against Doniphan West.