Experience, control will help Bulldogs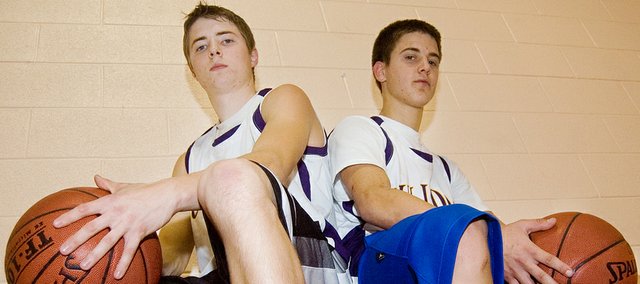 McLouth High boys basketball coach Jason Schroeder wants some control.
After MHS struggled last season, going 2-19, he is hoping to eliminate some old, bad habits and make things run a little more smoothly.
So at practices, the Bulldogs get an earful from Schroeder about the importance of ball control each time they get sloppy with their passes.
"I want them to understand that we don't want the defense to get their hands on the ball at all," Schroeder said, explaining his focus on deflections.
Since McLouth opponents had so much success last season, the coach wants to make sure the opposing defense isn't dictating what the Bulldogs are doing this time around.
"To me, deflections is a sign of weakness," Schroeder said. "If you're not strong with the ball — the ball's getting deflected, it's loose, it's all over the place — that's uncontrolled chaos."
If MHS is to avoid looking weak and reach offensive efficiency, the team's wo seniors will have to lead the way. So far, Cole Batman and Tyler Drinnon like the differences they see in this year's team.
Batman, McLouth's leading scorer last season at 13.4 points a game, said the team has a better attitude.
"People are always encouraging each other," he said, noting that wasn't always the case last year. "Everybody's trying to help one another."
Drinnon echoed that line of thought, saying the players are closer and more likely to keep the ball moving to find the open man.
"I feel like we're meshing more as a team this year," he said.
As far as on-court production, Schroeder said Batman and Drinnon are improved from 2008-09, but there is one huge difference on the roster.
"All the freshmen who played last year are now sophomores," the coach said with a laugh.
The sophomore class is led by power forward Gavin Swearngin, who averaged 6.8 points and 2.1 rebounds his freshman year, and includes Alen Kramer, Alex Courtney, Shawn Dailey, Calvin Booth and Gentry Bignall.
Schroeder also said the team will get a boost from junior point guard Derek Wright, noting he "has improved immensely from his sophomore to junior year."
Wright's improvement, along with the ball handling ability of Dailey, has enabled Schroeder to move Batman, the team's point guard last season, off the ball at shooting guard. The coach said MHS could be more effective if Batman doesn't have to worry about setting up the offense.
Batman's looking forward to the move — "We'll see if I can help my team out that way," he said.
Although Batman will likely find more scoring opportunities off the ball, that doesn't mean McLouth needs him jacking up a ton of shots, Schroeder said.
"I don't want Cole to average 25 and the next guy averages eight," the MHS coach said. "I'm thinking Cole could average anywhere from 12 to 15 points and I'm hoping that Gavin or Alen can be right there with him."
The duo of Swearngin and Kramer have impressed Batman with improved play at practice, and he said both appear stronger.
Schroeder said he would like to see the post pair make an impact with inside scoring.
"We need Gavin Swearngin and Alen Kramer to really pick it up," he said.
For more on this story, go to tonganoxiemirror.com.
The two might get some help inside from junior Trevor Roberts, who didn't play last year but, according to Schroeder, has some size and touch at 6-foot-2.
The coach and his players think this year's team has potential. Batman said their desire will show on the floor.
"We're all hustlers, we all get out and get after it," he said.
Schroeder, too, sees signs of life in this group.
"The skill level at McLouth and the knowledge of basketball at McLouth has improved a lot," he said.
All this talk of improvements and chemistry has the Bulldogs believing this year will be more successful than their two-win campaign a season ago.
Batman said he has already forgot about those 19 losses.
"We're going to come out of the gates strong," he said. "We're gonna see if we can pick up a couple wins from the start."
Bottom line, will McLouth enjoy more wins this year?
"Yes, we will," Schroeder said. "Why? We're smarter and more experienced and stronger and deeper this year."
That — and some control — are really all a coach needs.
McLouth's season begins Thursday, Dec. 3 at Troy.