Ready to work:
THS

grapplers a 'gritty' group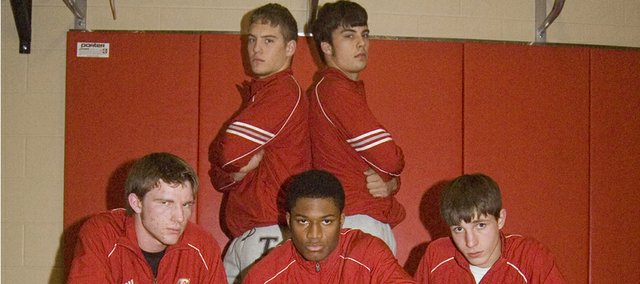 It's only a week into the 2009-10 Tonganoxie High wrestling preseason and coach Jeremy Goebel already likes what he sees.
The Chieftains, even while practicing twice a day, have not only come to work, they have come expecting results.
The coach said they have a "gritty attitude," a little better than he has seen before at THS.
That tone is set by Tonganoxie's seniors, a group that includes three returning varsity grapplers from last season — Justin Crotty, Austen Holloway and Jeremie Maus — as well as Zack Kaighin, sidelined with a knee injury last year, and transfer Michael Sullivan.
Goebel said the seniors have a sense of drive about them.
"I sense kind of this demeanor from them that every day matters," their coach said. "They know that this is their last shot."
Holloway said the seniors make a point to rally their younger cohorts.
"We're a small group," he said, "but we're a really strong group."
Maus said their main focus the first few days of practice was getting everybody at the ideal fitness level.
"We've got to get in shape — that's how we win most of our matches, we outwork everybody," Maus said, adding he wants to see everyone in wrestling shape. "We're all chubby buddies right now."
It won't be hard for this group to cut weight and get in prime grappling condition. Tonganoxie has nine varsity wrestlers returning from last season. Tyler Hand, Caleb Himpel, Hunter Lohr, Jonas Myers, Shane Starcher and Adam Thomas, like Crotty, Holloway and Maus, all have plenty of experience and know what it takes to compete.
"It makes our duals and tournaments so much easier to gain points," Maus said of the depth.
Even better, Holloway added, because they have battled together, there is a strong bond among the returning varsity wrestlers.
"With so many people coming back, I think it builds team unity," he said.
Although none of the current Tonganoxie wrestlers went to state last year, a few were close. Hand, Maus and Thomas all came one win away from qualifying at a very tough Class 4A regional. Himpel gained experience there, too, winning a pair of matches.
The sophomore class of Himpel, Thomas, Lohr, Myers and Starcher, Crotty predicted, will make a hefty impact this season. Since all of them wrestled at the varsity level last year, Crotty said they have the ability to perform like upperclassmen, which is a good sign for the program.
"Whenever I leave, it's still gonna be as good, if not better," Crotty said.
The biggest holes to be filled from last season come at the 140- and 189-pound weight classes. Those spots were occupied by Matt Brock and Steve Davis, who both went to state in 2009 and have graduated.
Goebel said Kaighin and Holloway would battle for the 189 slot, while Hand, Himpel and Vinnie Angell, who was 4-1 before an injury forced him to miss the rest of his sophomore year, will compete for the starting spot at 140.
"Those kids need to come out of the gates and get after it," Goebel said.
Competition looks to be a theme for an improving THS program. The wrestlers see it every day at practice and it is easy for them to stay motivated. The Chieftains constantly push each other because they think this team is capable of great things.
Crotty said that's why everyone has taken ownership in being a vocal leader.
"The whole team's together," he said. "It's better than just one person."
Holloway said the team wants to send at least nine wrestlers to state in 2010.
"We believe it's a reachable goal," he said.
The drive to reach state nearly consumes Maus.
"I've never made it to state before," he said. "Every year I've come one match away."
It's no wonder that this gritty team is following his lead and expecting results.
Tonganoxie's wrestling season begins with a Kaw Valley League dual tournament Saturday, Dec. 5 at Bonner Springs.
Returning records
Nine wrestlers with varsity experience return to the Tonganoxie High wrestling lineup. Here are their 2008-09 records:
103 — Adam Thomas, 19-17
112 — Hunter Lohr, 11-22
119 — Caleb Himpel, 20-21
125 — Justin Crotty, 12-19
130 — Tyler Hand, 12-15
152 — Shane Starcher, 8-23
171 — Jeremie Maus, 25-15
215 — Austen Holloway, 9-15
285 — Jonas Myers, 20-8